The Play
On September 9, 2017, Louisiana Tech and Mississippi State teamed up for an event that will go down in college football infamy. And this Saturday, the schools meet back up in Starkville for the final game of a 2-for-1 and hope to try to avoid such a fiasco.
Without a doubt, at some point during the broadcast, this play will be mentioned. And probably in a way that makes it sound like it was laughable only for Tech. So I want to take a minute (if you're a speed reader) and break down all fifteen seconds to see if we should be as embarrassed as we've been led to believe.
So if you're like me, you've seen this play multiple times: not only during the game, but after on shows like Sportscenter. If you're not like me, and don't have these images burned into your head, here's a (painful) reminder: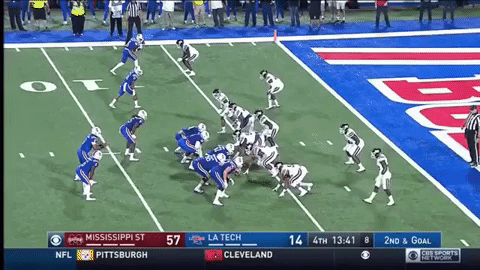 Step-by-Step
There's a lot going on here, so let's break it down. In order, we have:
The Snap
The Failed Recovery
The Collision
The Tackle
The Kick
The Foot Race
Step One: The Snap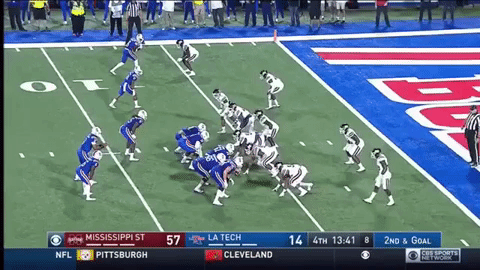 In Avengers: Infinity War, the "snap" is the climax of the movie. Most of the movie's 149 minute run-time is spent building up to the moment of the snap.
But unlike Infinity War, this play (like pretty much every football play) starts with the snap.
The center chucks the ball back to the QB, but misses the target wide right. The ball gets past the outstretching arm of J'Mar and starts an adventure that would take it on an 87 yard journey backwards down the field
It's hard to see the ball until it gets past J'Mar, and the alternate view of the play doesn't really help either: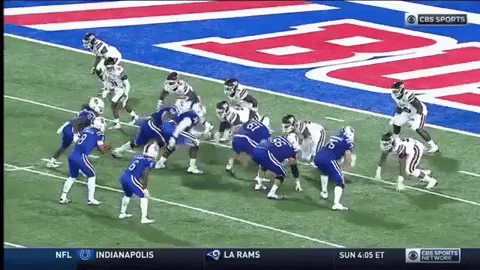 This was the first of Tech's mistakes on this play. The center's main job is getting the ball to the QB, and on this play, he failed.
I'm going to keep a counter of every time somebody makes a bad mistake. And there's no way to pin this first miscue on anybody not in a blue jersey.
Mistake Counter – Tech: 1, Miss State: 0
Step Two: The Failed Recovery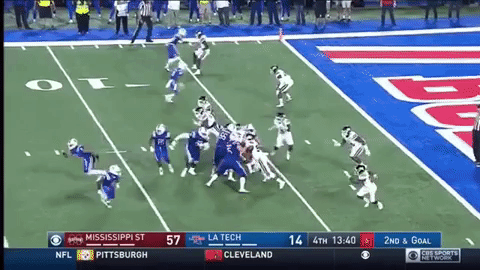 J'Mar does a good job of recovering from the shock of an elusive snap, but J'Mar does not do a good job of recovering the ball. The quarterback was able to catch up to the bouncing ball, but comes in a little hot. This causes the ball to deflect off of the sophomore and continue it's journey.
As J'Mar runs to catch up to the ball, he looks over his shoulder to see three Mississippi State defenders bearing down on his position, affecting the decision to not slow down before trying to pounce on the ball.
Mistake Counter – Tech: 2, Miss State: 0
Step Three: The Collision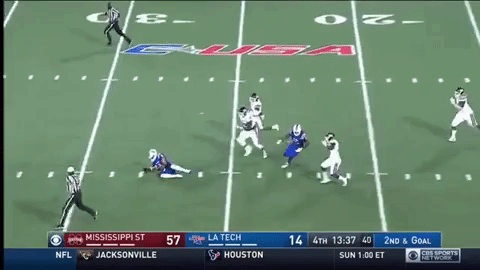 Tech may have started the miscues on this play, but they sure weren't alone. After J'Mar whiffs on the fumble recovery, the next four players closest to the ball are all wearing white and (just a hint of) maroon.
Maurice Smitherman (#31) has a few chances to pick up the ball, but seeing nothing but green grass turf in front of him, he tries (and fails) to go for the scoop-and-score (yes, that's the technical term).
After a few moments, Marquiss Spencer (#42) has had enough of Smitherman's inability to complete the scoop part of the scoop-and-score and decides that now is his time to shine. The result is a bit comedic: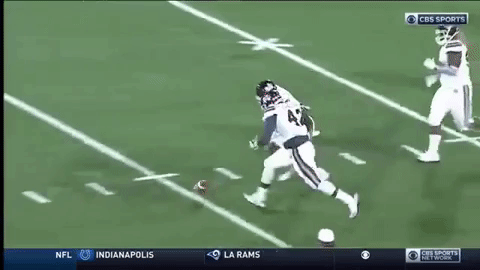 Every time I see it loop, I make a little *boink* noise in my head.
By now, the ball has crossed midfield and is halfway done with its journey. Maybe its the Stockholm Syndrome, but I'm starting to root for the little guy.
Mistake Counter – Tech: 2, Miss State: 1
Step Four: The Tackle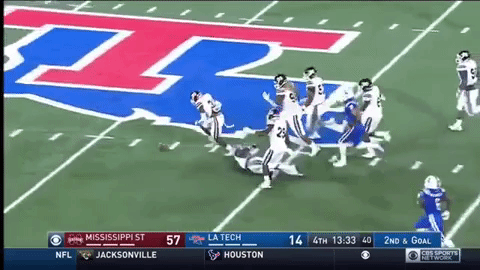 Mississippi State's Smitherman was able to recover from his teammate's sabotage and is given one more shot to pick up the ball. Spoiler alert: he doesn't.
Like a well coached player, J'Mar hadn't given up on the play and makes a return appearance, this time taking out Smitherman with a tackle that just looks more like a bad attempt of playing leap frog.
Mistake Counter – Tech: 2, Miss State: 2
Step Five: The Kick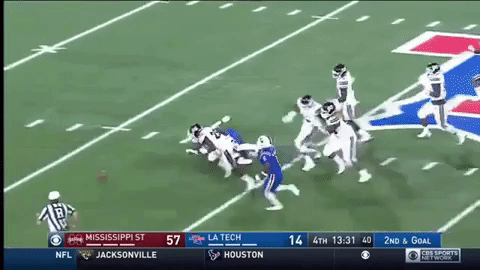 A new challenger enters: Mississippi State DB CJ Morgan (#29), the freshman from Bossier City. Morgan makes a single attempt at a recovery before booting the ball 20 yards down the field, from the 35 to the 15.
It's a bit hard to see the kick on the main TV angle, but it's a little easier on the alternative: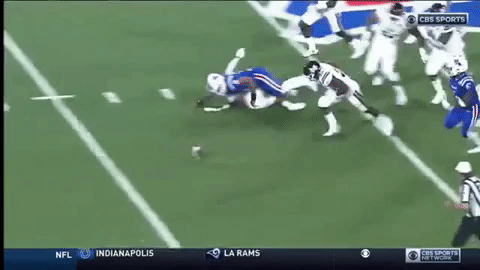 MSU's 2017 starting kicker (Jace Christmann) was perfect on field goals and extra points from within 20 yards, but had he struggled, it would have been comforting for Coach Dan Mullen to know his freshman DB could have filled the role.
Also, Boston Scott wasn't going to let J'Mar have all the tackling fun and took out Morgan right after his boot.
Mistake Counter – Tech: 2, Miss State: 3
Step Six: The Foot Race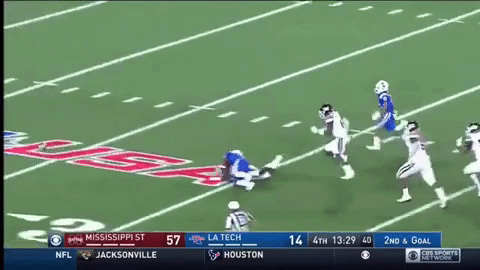 Finally, the "play" has an ending. C.J. Powell (#81) is able to outrun State's Willie Gay Jr (#6) and jump on the football.
For the first time in 15 seconds and 87 yards, a football player makes a not-bad play.
Mistake Counter – Tech: 2, Miss State: 3 (Unchanged)
Conclusion
So there you have it, this play should reflect worse on Mississippi State than on Tech. So why does it still feel like we are the butt of a joke?
Well, first there's the scoreboard. Tech is already miserably down by 43 points. Tech made a lot of mistakes for the game to get to this point, so it would be pretty easy to assume they were fully responsible for this one.
Had this game been much closer, we'd be applauding Powell for catching up to the play and preventing a Mississippi State touchdown (or with how it was going, a fumble out of the back of the endzone and 2 points for the road team). Looking back on it now, I think Powell deserves much more recognition for what he was able to do. It's not easy to try so hard on a busted play in a game you are losing so badly.
Also, it's Tech's logos on the field. Games played in the Joe against SEC schools are few and far between, so it felt like a victory to even get Mississippi State to agree to play here. Unfortunately, that feeling didn't last too long.
It's too late now to change how the public sees this play. But fortunately, time moves on.
And who knows, maybe something even worse will happen to Tech this Saturday that will drive these 15 seconds straight from our collective memory.