It's been a rough couple of weeks for Louisiana Tech basketball. After a home loss to hated foe UAB, the Bulldogs allowed North Texas to come back from a 17-point second-half deficit to drop a second game at home in the TAC.
Those two games had a lot in common. Both UAB and UNT are ranked above Tech in KenPom, Massey, and NET. The Blazers and Mean Green both wear green as a primary color (although the Mean Green wore black on Saturday… what was that about?). But most importantly, the Bulldogs struggled out of the gate in both contests.
Two minutes and thirteen seconds went by against the Blazers before Louisiana Tech scored their first bucket. It was even worse against North Texas, where 177 ticks of the game clock went by before the scoreboard operator was able to change the 0 under "LA TECH" to a 2.
It's times like these I'm glad Tech doesn't have the same tradition the New Orleans Hornets tried to get going (and may still have going for all I know). At the one game I went to, the entire arena was expected to stand until the team made their first basket. Sounds like a fun ritual, right?
Well, like Rustonites before 1970, the Hornets could not buy a shot. We were stuck standing until finally, mercifully New Orleans got on the board. This "tradition" led to frustration among everyone in the arena.
And it's a similar frustration that Tech fans felt after the slow starts against UAB and North Texas. Especially after both of those games ended as Ls in the win/loss column. But what I'd like to do is figure out just how big of a deal all of this is. Obviously, any team would like to score as quickly and often as possible, but is Tech's early sluggishness really worth freaking out about.
So first things first, let's see how Tech compares to the rest of the conference: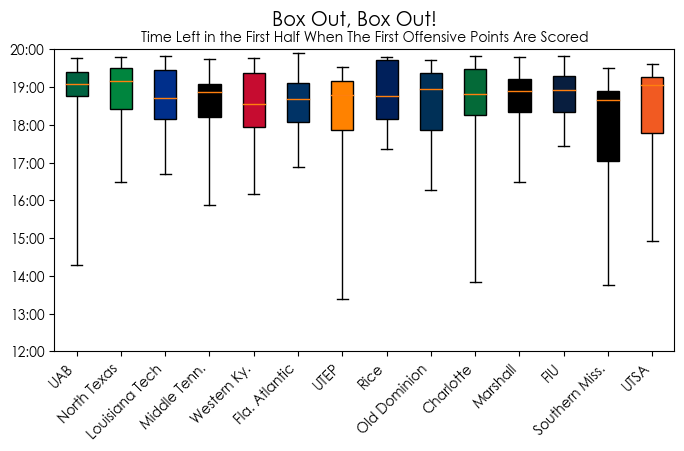 (Teams are ordered by their KenPom ranking)
Honestly, I'm pretty shocked there isn't more of a difference between Tech and the rest of C-USA. All the cards on the table, when I started researching I expected to see a huge difference between Tech and the other top-tier conference schools.
And while yes, Tech is generally less consistent than a team like UAB, the Blazers also have a much lower low. Also, on average, Tech scores their first points only 15 seconds after UAB does.
If we expand to when the 10th point is scored, Tech looks even better: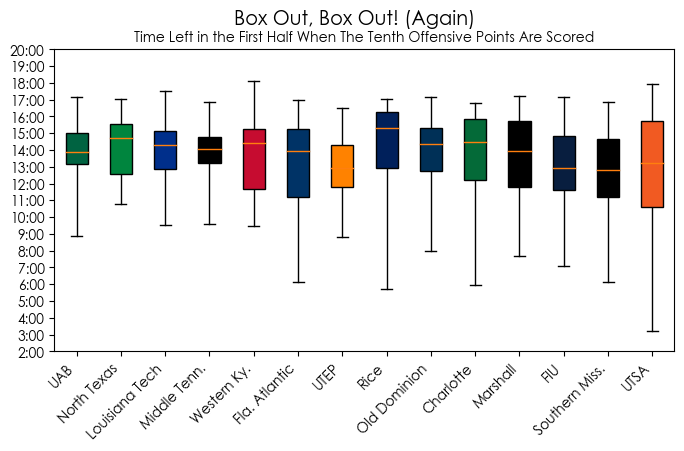 Poor, poor UTSA.
So Tech is actually one of the best teams in the conference at getting to 10 points as quickly as possible. But what about the recent games against UAB and North Texas?
Well, how quickly Tech scores a basket doesn't seem to translate to wins or losses: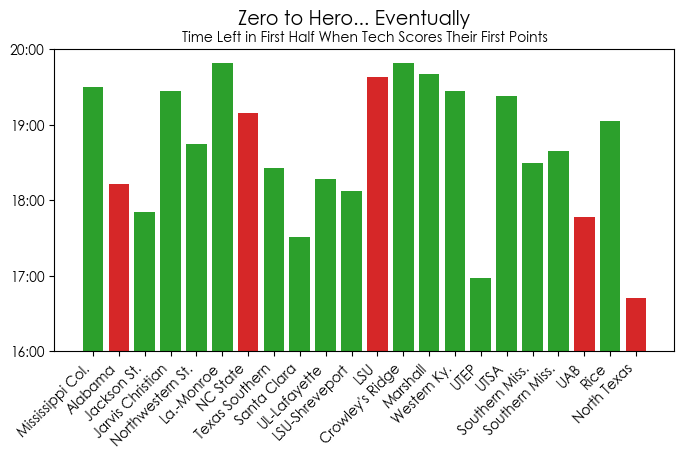 Longer bars here mean that Tech scored quicker, and Tech's five losses on the year run the gamut from early first-score games (LSU) to late first-score games (North Texas).
Granted, if you only look at the last seven games, you see 3 of the worst 5 starts for the Bulldogs. But it might be worth mentioning that UAB, North Texas, and even UTEP have 3 of the top 5 defenses in C-USA by KenPom's defensive efficiency. Tech may have stumbled out of the gate, but those three opponents are pretty good at tripping up offenses.
A ten-point threshold is similar. There is no correlation between wins/losses and how quickly Tech puts up 10 points: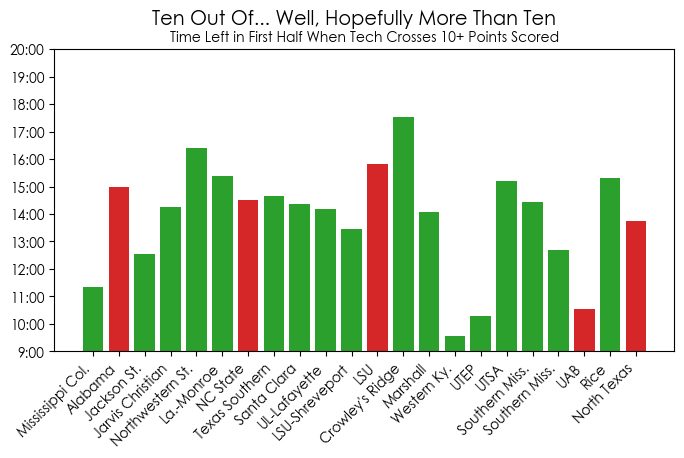 In fact, this latest North Texas loss was just about average in terms of how quickly Tech got to ten points.
So while, yes, there's nothing here showing that starting the game on a scoring drought is a good idea, it does look like Tech's slow starts aren't affecting their wins and losses as much as at least we thought.
Now slow finishes…? That's a topic for another post.