Your Louisiana Tech Bulldogs are BACK in the NCAA Tournament for the second straight year! After Steele Netterville's walkoff on Sunday, the Diamond Dogs learned that they'll be heading to Longhorn country as a 2 seed to participate in the Austin Regional.
But before they go, you'll need to know some things about their three opponents. That's where we come in!
#1 Seed: University of Texas Longhorns
2022 Record: 42-19 (14-10 in Big 12 [#3 RPI conference])
Current RPI: #16
Recent Results: Lost Big 12 championship game to Oklahoma. 8-2 in last 10 games.
What they're good at: Batting. Holy hell, this team ranks 7th in the nation in Batting Average (.315), 18th in OBP (.409), and 4th in Slugging (.555). That means that as a team, their OPS is .964, which is… pretty effing nuts. Individually, two batters come in at over 1.000 OPS in the nation's leading long-ball smasher Ivan "The Hispanic Titanic" Melendez (no, I didn't make up that nickname) and Murphy Stehly at 1.425 (!!!!) and 1.112, respectively.
Unfortunately, the Longhorns are pretty damn good on the mound, too, coming in at #15 in WHIP (1.27), #29 in ERA (4.15), and #48 in Strikeout-Walk ratio (2.48). Starters Pete Hansen (0.93 WHIP, 3.01 ERA) and Gordon Lucas (0.99 WHIP, 2.41 ERA) lead the way, with lots of solid arms in the bullpen as well.
What they're bad at: Starting pitching not named Hansen or Gordon. The Longhorns struggled to find consistency with other pitchers starting on the mound. No other pitcher with more than one start in the season posted an ERA of lower than Tristan Stevens 4.82 in 71 innings pitched.
How the Longhorns win the Regional: Stay clean on Friday and Saturday behind great pitching performances, then turn the bats loose on Sunday. A losers' bracket team likely won't have the arm strength to keep Texas's bats cold through two games, and the Horns would continue playing into June.
Should you cheer for this team?: Texas is looking to return to the College World Series for the second straight year, and 38th overall time. Should they make it that far, they'd be looking for their 7th National Championship, and first since 2005. In short, you shouldn't cheer for them. Come on, what are you doing? HORNS DOWN BAYBEEEEE
#2 Seed: Louisiana Tech Bulldogs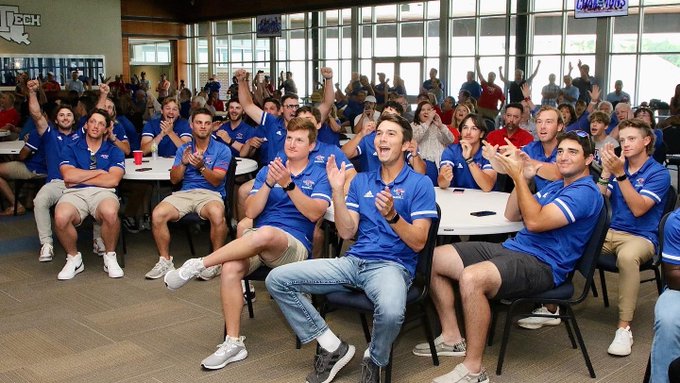 2022 Record: 42-19 (20-10 CUSA [#5 RPI conference])
Current RPI: #33
Recent Results: Won CUSA Tournament (!!). 8-2 in last 10 games.
What they're good at: Balanced Pitching. The Bulldogs rank #18 in WHIP (1.29), #11 in Strikeout-Walk Ratio (3.15), and #31 in ERA (4.11). No pitcher with over 12 innings pitched has allowed opposing batters to hit for more than .284, so there are a lot of options if forced into the losers' bracket. Kyle Crigger out of the bullpen is #2 in the nation with an ERA of 1.40.
Tech also has the nation's leading scorer in lead-off man Taylor Young (86 runs), and the #10 RBI-getter in clean-up batter Cole McConnell (74). That one-two punch is so effective because Young gets on base roughly 50% of the time he heads to the plate (#22 in the nation).
What they're bad at: Balanced hitting. Last year's Bulldog team had the murderer's row of Young, Wells, and Bates to open things up. Wells and Bates were the Dogs' only batters over 1.0 in OPS a season ago, but Tech also had 6 batters over .300 AVG, and 7 batters at least at or above .900 OPS. This year's team has found most of its offensive success through Young (.358 AVG, 1.138 OPS) McConnell (.332 AVG, .944 OPS), and Netterville (.311 AVG, .939 OPS). No other Bulldog comes close to .900 OPS this season.
How the Bulldogs win the Regional: If Tech gets solid pitching up and down the bullpen, which they've shown is possible, Tech should have the firepower to take out any team in this regional. Things might need to fall the right way to avoid the other teams' best pitchers, but the bats should have enough juice to keep any game competitive.
Should you cheer for this team?: The Dogs are in the NCAA Tournament for the 10th time, and 3rd in the last 6 years. Before they try to make it to their first ever Super, listen to Lane Burroughs' post game press conference immediately following Steele Netterville's walk-off championship clincher and tell me you don't feel something inside:
"For Steele Netterville to come up with the walk-off… Louisiana Tech DNA… A Bulldog Man through and through… So proud he was there at that moment… He will have that moment forever with all of these fans here." -HC Lane Burroughs pic.twitter.com/xCgvCBvwxL

— Diamond Dogs (@LATechBSB) May 29, 2022
#3 Seed: Dallas Baptist Patriots
2022 Record: 34-22-1 (11-9-1 MVC [#9 RPI Conference])
Current RPI: #23
Recent Results: Lost MVC Tournament (went 1-2… including 21-2 blowout to #80 RPI Evansville). 4-5-1 in last 10 games.
What they're good at: Extra Base Hits. While DBU isn't the best hitting team (152nd nationally at .276), they're in the top 50 in doubles (42nd), triples (50th), and home runs (34th). Cole Moore leads the way in most batting categories with an OPS of 1.079, 22 doubles, and 10 HRs. The Pats have five players in double digit dingers.
What they're bad at: Consistency. When the Pats have "it", they are one of the best teams in the nation and can beat anyone. When they don't… they lose series to #188 Illinois State or #151 Bradley. On the field, DBU has two key issues: 1) Their starting rotation isn't great (ERAs among multiple-game starters range from 4.30 to 6.11; WHIPs from 1.36 to 1.46). 2) Only two players bat for over .300 AVG and over .900 OPS. There's significant dropoff towards the bottom of the lineup, too (.207 avg, .600 OPS in the worst "starter").
How the Patriots win the Regional: DBU has found ways to go 13-9 against quad 1 teams (including a victory over Tech earlier this year), so they certainly have the firepower to get it done. Their starting pitching will need to do enough to keep it close, and their bats will need to come to life, but if they can find their Feb-March form in early June, look out!
Should you cheer for this team?: DBU is actually having a down year, believe it or not! They've won at least 40 games every single year since 2014 until this years' 34 win campaign. But they've adopted the mantra that they'll play anyone, anywhere – which is an admirable way to approach things. This is the Patriots' 12th time to the tournament, and they're looking to make their second straight trip tp a super regional.
#4 Seed: Air Force Falcons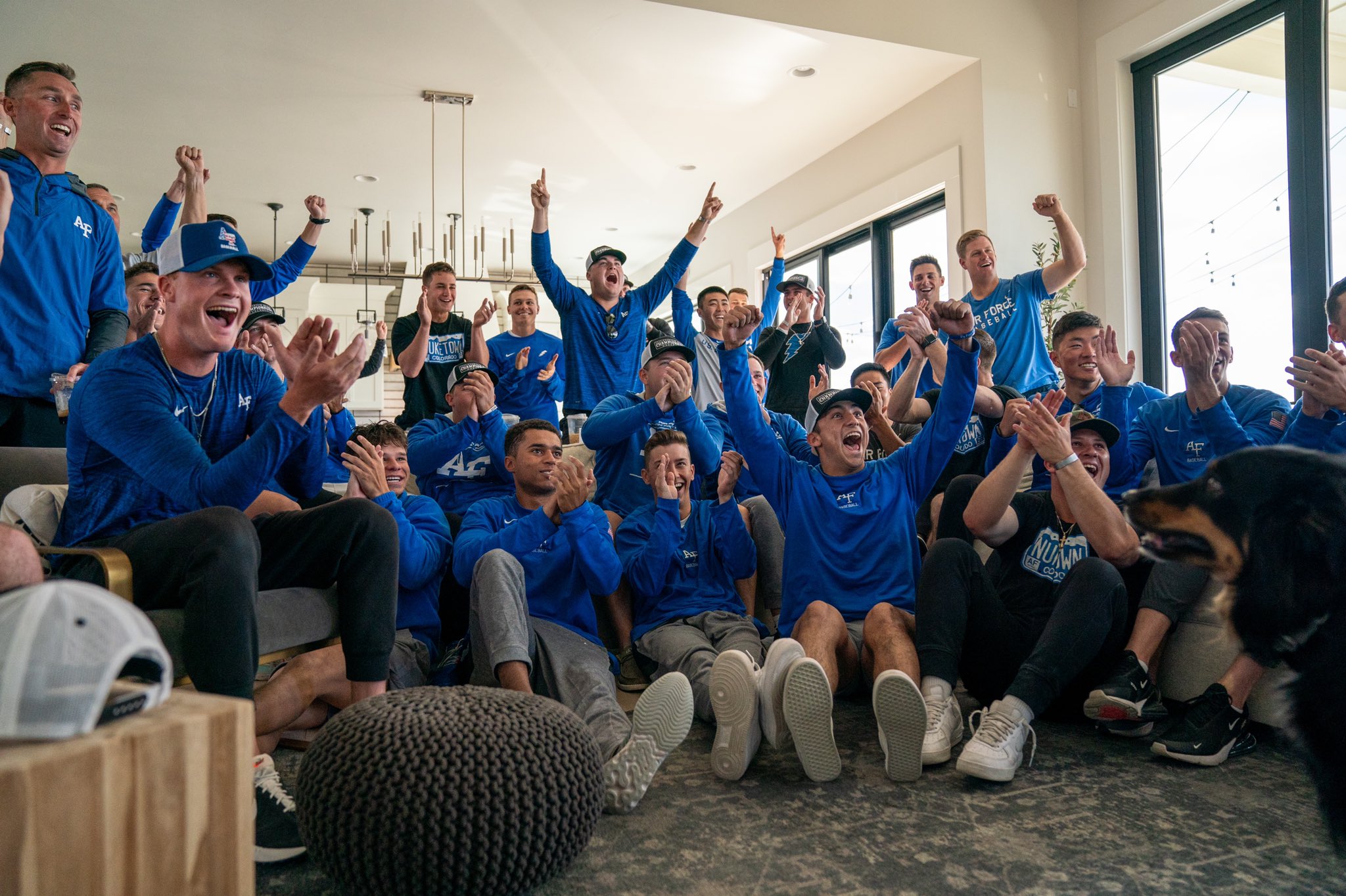 2022 Record: 30-27 (15-15 MWC [#15 RPI Conference])
Current RPI: #107
Recent Results: Won MWC Tournament. 7-3 in last 10 games.
What they're good at: BATTING. Sheesh this team is good: #9 in AVG (.313), #10 in Slugging (.526), #6 in Doubles (141), #8 in hits (654). The Falcons boast FOUR players with an OPS over 1.000. Sam Kulasingam leads the way with a 1.169 OPS, and is the second-best batter in the nation with a .414 AVG. He also LEADS THE NATION in hits with 103… you kidding me, dude? Jay Thomason (.344 AVG, 1.043 OPS), Gabriel Garcia (.353 AVG, 1.069 OPS), and Paul Skenes (.326 AVG, 1.078 OPS) are no slouches, either. The four of them have combined for 53 long balls on the year, as well.
On the mound, Paul Skenes boasts a 2.42 ERA (29th in the nation), and a 1.14 WHIP… wait a god damned second. Is this the same guy that has a 1.078 OPS at the plate????? Yep… wow!
What they're bad at: Pitching, outside of Paul Skenes. Skenes has been their workhorse all year, with more than 22 innings pitched over all other arms. But outside of him, only two pitchers with major usage have an era lower than 5.00 (Gehring's 4.74 in 57 IP and Argo's 4.85 in 29.2 IP). The Falcons rank 220th as a team in ERA, 212th in WHIP, and 162 in Strikeout-Walk ratio.
How the Falcons win the Regional: The same way they won the MWC Tourney: Hope their pitching stays alive. In game 1, Air Force's staff limited UNLV (the best hitting team in the nation) to just 3 hits and 2 runs behind a masterful performance from Skenes. Then, Doyle Gehring went 7.1 and only allowed 4 hits during his 13 SO performance. In the title game rematch, SJSU was able to hit the ball on Dylan Rogers (5.01 ERA, 1.47 WHIP) with 13 hits… but the Falcon staff didn't give up any walks and struck out 12 batters. If Air Force can get these kinds of performances in Austin, their bats will absolutely have enough power to win the whole thing.
Should you cheer for this team?: Air Force is making its triumphant return to postseason baseball after a FIFTY THREE year drought. It will be the 7th all-time appearance for the Falcons. Plus, they hang out with a cool dog named Griff. Too bad the regional's not in Ruston…