Here's everything you need to know about Louisiana Tech's game against Nebraska in Lincoln
: Saturday, September 23rd

: 2:40 pm CT

: Memorial Stadium (Lincoln, NE)

: Big Ten Network

: KXKZ 107.5 FM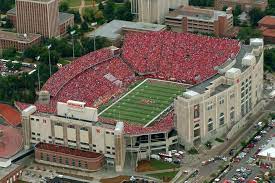 Tech did not fare well in its two previous matchups against the Cornhuskers, losing 49-10 in 2006 and 56-27 in 1998. But it was during the first-ever matchup between the schools where Bulldog receiver Troy Edwards set the NCAA record (that still stands today) with 405 receiving yards. He did so on 21 catches and scored three touchdowns.
Nebraska runs the ball a lot, in fact, they are the 8th most run-heavy team in college football. And that's because they've been pretty damn good at it, averaging 5.1 yards per carry. That stat ranks 30th nationally.
But the Cornhuskers will be without two of their leading rushers – Gabe Ervin and Rahmir Johnson. But Nebraska utilizes their quarterbacks in the run game too. In fact, QB Jeff Sims and QB Heinrich Haarberg are the 2nd and 3rd leading rushers on the team, respectively.
Whether it's Sims or Haarberg under center, the passing game does leave a bit to be desired. It's not awful by any means, but Nebraska is below average in most passing statistical categories, including sacks allowed and interceptions forced.
Just like the offensive side of the ball, the run game is where the Nebraska defense really shines. 
The Cornhuskers are a Top 5 run-stopping defense, only allowing 1.7 yards per rush.
The passing defense is no slouch either, especially when it comes to the pass rush. OVer 10% of opposing QB dropbacks have ended as sacks.
Massey Ratings
8% chance to win, 35-13 Nebraska
ESPN FPI
16.0% chance to win
Vegas
Nebraksa by 19. Over/Under of 49
So about a 35-14 win by the Cornhuskers
Matt (@DenizenMatt): Tech 14 – NU 42
Evan (@EvanRSpencer): Tech 10 – NU 24
Nathan (@ntruppel): Tech 19 – NU 21
Courtney (@scientistcourt): Tech 20 – NU 45