A look at what just happened against Nebraska in Lincoln for Louisiana Tech on Saturday:
The teams traded punts early at Memorial Stadium on Saturday as neither team was able to get much of anything going offensively.
It wasn't until the second quarter that either team finally found the endzone, as a 43-yard scramble by Nebraska QB Heinrich Haarberg set up the Cornhuskers to run the ball eight more times until RB Billy Kemp IV finally reached paydirt and made it 7-0 Nebraska.
Smoke Harris nearly fumbled the ball away on Tech's next play from scrimmage. But instead, the Bulldogs were able to drive down the field and score on a 14-yard run by Jacob Fields. That rush was tied for the second-longest given up by the Blackshirts all season.
That 7-7 score lasted all the way through halftime thanks to a 41-yard missed Cornhusker field goal as time expired in the second quarter.
But the teams would not stay in deadlock too much longer.
On the first drive of the second half, Nebraska converted a 3rd & 3 with a 34-yard run and then a 4th & 1 with a 19-yard run before finally punching it in with yet another run play. In total, the scoring drive was 85 yards with nine straight rushing plays.
Tech looked poised to answer immediately but a third-down pass to Decoldest Crawford was (incorrectly) marked short of the sticks. The Bulldogs went for it on 4th & 1, but the quarterback sneak was stuffed.
Nebraska fumbled but recovered it themselves on what could have been a game-changing turnover. Instead, the subsequent punt pinned Tech inside their own five-yard line.
Without room to work, the Bulldogs end up needing to punt themselves, setting Nebraska up with a short field they use to extend their lead to 21-7 with only two plays.
A Smoke Harris catch-and-run got Tech to midfield on the next drive, but again the Bulldog offense sputtered.
And when the Cornhuskers get the ball back, Haarberg wasted no time before breaking off a 72-yard run for the dagger, making it 28-7.
After a lightning delay, Jack Turner was able to orchestrate a drive to make the score a bit more respectable, 28-14 with 5:17 left in the game.
The Bulldog defense got a stop, but Jack Turner hit a receiver in the hands just for the ball to be tipped up and picked off. It was Turner's only interception of the game.
That officially ends any Tech threat, and the game ends 28-14.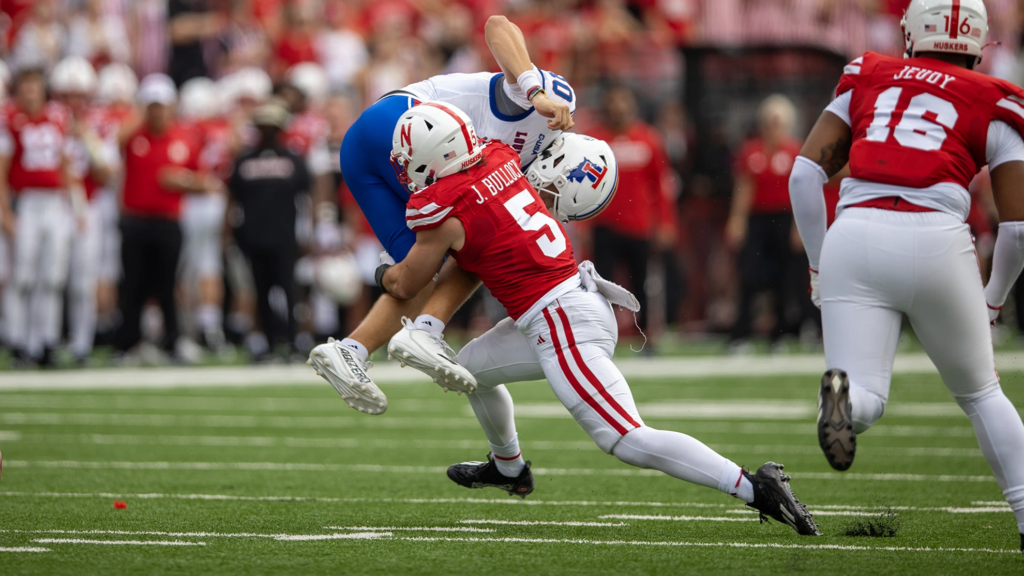 Jack Turner was thrust into the spotlight due to injury and played admirably. He avoided turnovers and kept the Bulldogs in the game much longer than they were expected to stay in it.
The option defense. Tech often tried to set the edge and prevent a pitch to the RB, but that just allowed the QB to keep the ball and take off down the field all night long.
The officiating. While not the reason Tech lost, the bad call on the spot leading to a 4th down let the last of the air out of Tech's balloon and prevented any possible comeback.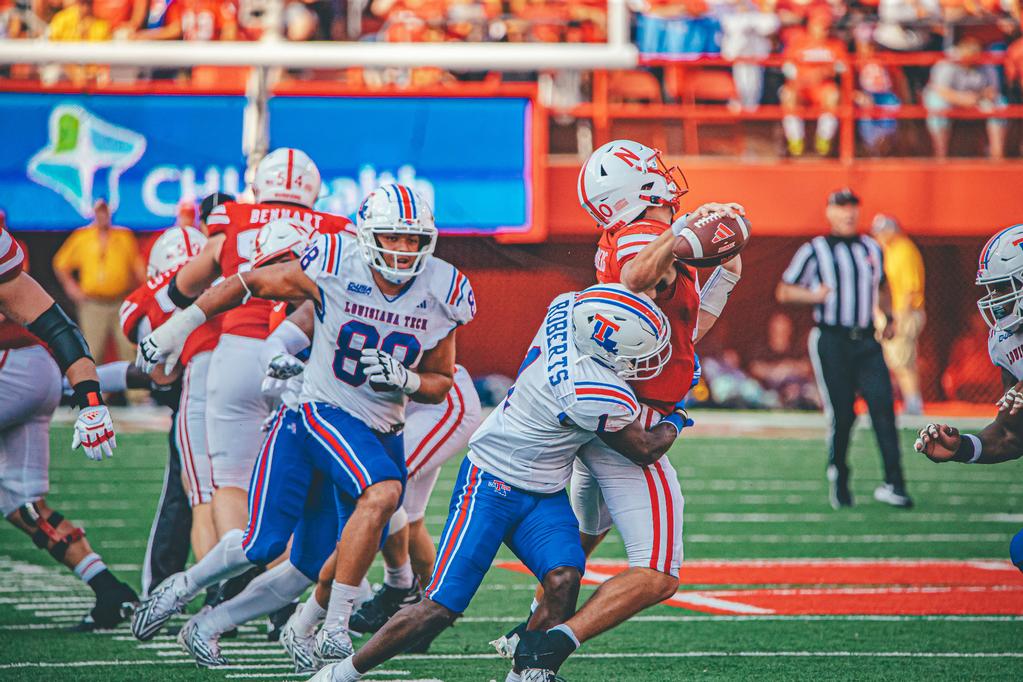 Lincoln was great, Runza was delicious, and our friends are unmatched.
Oh, you meant about the game? It sucks we didn't win. We saw moments that show this team could be great, but the components aren't coming together. I hope we can get some forward momentum going as we go into conference play.
Echoing a lot of Courtney's thoughts, it was a fun time outside of the game. Nebraska fans are generally great people.
Game wise, yeah it was a weird one. I felt like we hung with them for a half, but I never deluded myself into thinking we could escape with a win. Yes, Nebraska is a great defense, but the offense still leaves me wanting more.
Not saying we would've won – but three critical bad calls by the refs in the third quarter changed the direction of this game: a bad spot at the Nebraska 27 forcing a 4th and 1, a phantom unsportsmanlike conduct penalty, and a clear PI against Smoke that was flagged and then picked up.
Change those calls and again, we probably still lose. But those directly impacted Nebraska growing a 7-point lead into a 21-point lead. Too much for the Bulldogs to overcome.
I fully feared Tech would be down by 21 at halftime, yet it was tied at intermission.
I fully feared Jack Turner would try to force things and throw 3+ interceptions, yet he ended his night with only one (which wasn't even his fault)
I fully feared this Tech team would be laughed out of a Big Ten stadium, yet they completed the entire game
I will dry any tears I have from this loss with the $1,550,000 Tech got for making this trip.
A Louisiana Tech football team enters a big P5 stadium and leaves with nothing but a moral victory. A tale as old as time
Want to read more about Tech's last second loss to North Texas, check out BleedTechBlue's recap post here.
Next Game: Tech travels to El Paso on Friday night at 8 pm CT to face UTEP. The game will be broadcast on the CBS Sports Network.
Oh, and the betting line is already in, so go fill out the gtpdd Contest before you forget!