Here's everything you need to know about Louisiana Tech's game with North Texas tonight:
: Saturday, September 16th

: 6:00 pm CT

: Joe Aillet Stadium (Ruston, LA)

: ESPN+

: KXKZ 107.5 FM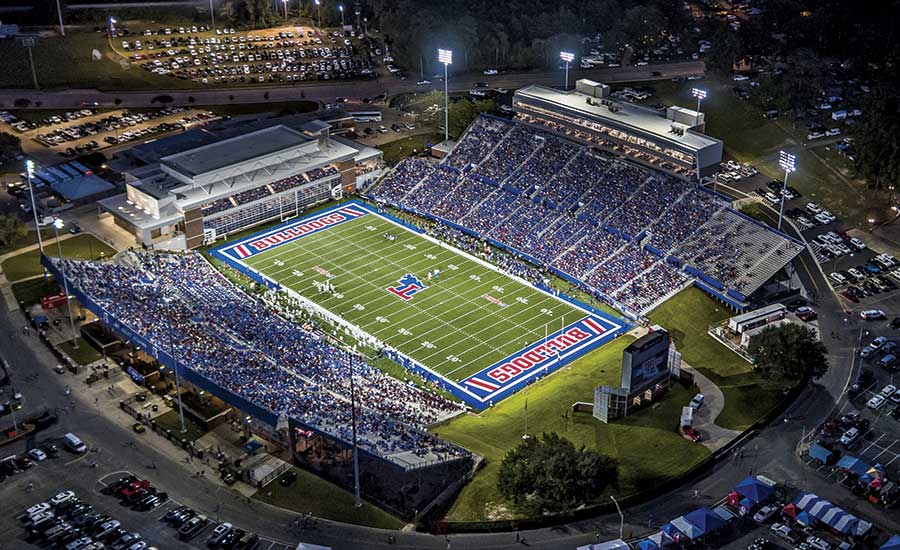 Although the two schools are forever tied together by their famous alum who won four Super Bowls together with the Pittsburgh Steelers, these two programs didn't schedule each other until 1976, just after Terry Bradshaw and Mean Joe Greene started taking the NFL by storm.
The Bulldogs hold the all-time series record of 13-8, and won 7 of the 10 games played as part of C-USA conference play.
Last year, the Mean Green ran all over the Bulldogs. Ayo Adeyi, Oscar Adaway III, Kaylon Horton, Isaiah Johnson, and Ikaika Ragsdale each ran for 5.9 yards per carry and totaled 475 yards on the ground en route to a 47-27 victory over the Bulldogs.
This year, all five of those 2022 Bulldog-killers return, although they have yet to impress in their 2023 campaigns. No running back has yet to eclipse 100 yards on the ground or break out a run of longer than 15 yards.
The passing game is even more of an enigma. North Texas has switched back and forth between Abilene Christian transfer Stone Earle and ULM transfer Chandler Rogers.
Neither have really impressed, but Rogers finally put together a solid second half against FIU in last week's loss.
Statistically, the North Texas defense is very, very bad. Their yards per game allowed is the worst in the nation. Their points per game allowed is third third-worst. 
They have a Bottom 10 run defense and a Bottom 25 pass defense. They also can't get to the opposing QB very often, with a Bottom 15 pass rush.
But one thing the Mean Green defense can do is force turnovers. Even in a 58-21 loss to Cal, North Texas was able to intercept the ball three times.
And UNT forced three FIU turnovers in that loss as well – a fumble and two picks.
Tech should be able to move the ball down the field against North Texas, but only if the Bulldogs can protect the football.
Massey Ratings
51% chance to win, 34-33 Tech
ESPN FPI
68.0% chance to win
Vegas
Tech by 4.5. Over/Under of 67.5
So about a 36-32 win by Tech
Matt (@DenizenMatt): Tech 28 – UNT 10
Evan (@EvanRSpencer): Tech 41 – UNT 38
Nathan (@ntruppel): Tech 41 – UNT 21
Jeremy (@jeremy_farrar): Tech 31 – UNT 28 OT
Courtney (@scientistcourt): Tech 42 – UNT 35
Josh (@iamjoshfarrar): Tech 35 – UNT 31