A look at what just happened against Northwestern State in Louisiana Tech's 2023 FCS matchup:
Saturday's game against Northwestern State showcased a lot of what we've already seen from Louisiana Tech.
A 41-yard touchdown run by Tyre Shelton opened the scoring, but outside of the big play, the Bulldog offense struggled to put drives together. Drive #2 started with a 42-yard pass to get Tech down to the 5-yard line, but after three unsuccessful plays, Jacob Barnes was called on to make it a 10-0 game. The next two drives would end as three-and-outs.
The defense was able to keep the Demons off the scoreboard for most of the first quarter but eventually gave up a touchdown thanks in large part due to a pass interference penalty. Fifteen minutes in, and Tech was only leading 10-7.
But the big play would soon return to the Bulldogs. With 12 minutes left before the half, Week 0 hero Keith Willis broke free for a 65-yard touchdown rush on the first play of the drive. 17-7 Bulldogs.
The teams traded three-and-outs before trading touchdown drives. Northwestern State's was an impressive 11-play, 73-yard drive that concluded with a Tyler Vander Waal scramble for the score. This ability to avoid the pass rush and gain positive yards troubled the Bulldogs all night.
Tech struck back though with their longest drive of the first half – a 6-play, 88-yard trip into the Demon red zone that concluded with Hank Bachmeier's only passing TD of the night.
Tech now led 24-14, but Northwestern State wanted to make it a one-score game going into the half.
Instead, the Demons suffered the worst six-play stretch I've seen in a long, long time.
First, was a dropped pass by an NSU receiver that could have practically strolled into the end-zone had he been able to corral it. Next came back-to-back sacks on Tyler Vander Waal to bring up fourth down.
But we aren't done yet. Demon punter Brett Money was unable to corral a bad snap, and he got demolished for what ended up as a turnover on downs.
One more play until we've finished the six: Charvis Thornton receives the hand-off on the first play of Tech's subsequent drive and doesn't stop until he hits paydirt. From what could have been a 24-21 point game had that pass not been dropped, to a 31-14 Tech lead just like that.
But the Demons just wouldn't go away. At least yet.
Charvis Thorton fumbled the ball away on the first snap of the second half, and four plays later NSU made it a 10-point game again – 31-21.
Two pass-interference penalties bail out the Bulldogs as they drive into field goal range, where Jacob Barnes adds yet again to the scoreboard, now reading 34-21 Dogs.
Northwestern State three-and-outs, and one play later it's 41-21 as Keith Willis again breaks away for a long score.
Make that 48-21 as the first play on Northwestern State's next drive goes just about as well for Tech. Cedric Woods reels a deep pass in and returns it for the score.
Tech adds a field goal on their next drive before the end of the third quarter, and that's the end of the scoring on the night. Some substitutes (like QB Jack Turner) come in for mop-up duty and the Bulldog defense keeps the Demons from showing any life late as Tech wins this one 51-21.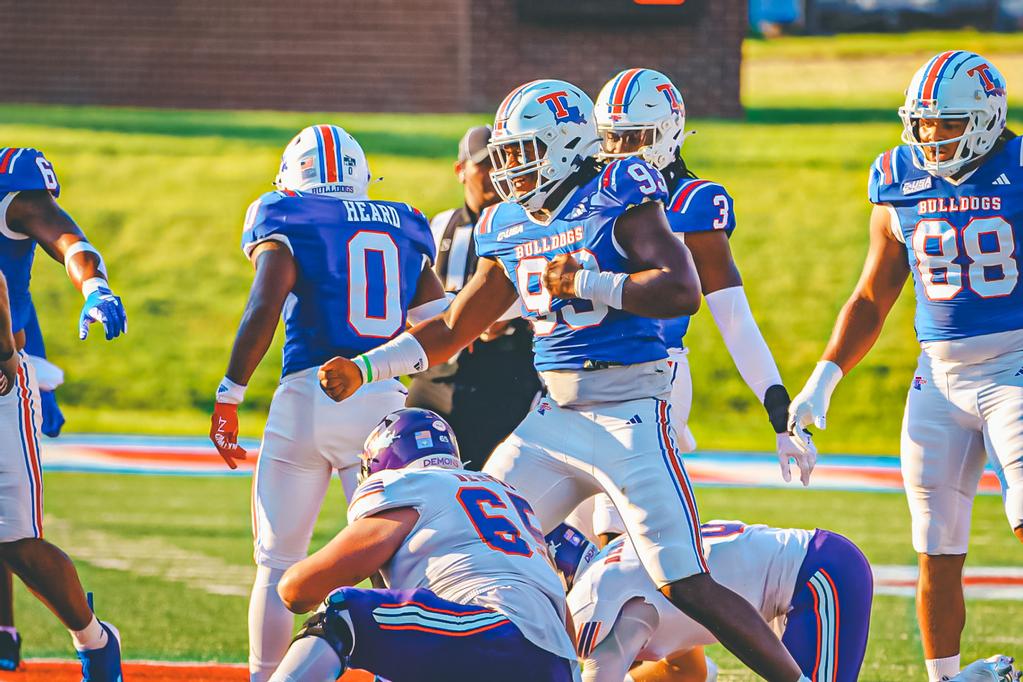 As said by Chris Mycoskie on the broadcast, Cedric Woods secured a 13 consecutive season with a pick-six for the Bulldogs. That's the third-longest streak in FBS.
The passing game. Even against an FCS opponent, Tech struggled to get anything consistently going through the air. Not like they really needed to with 367 yards on the ground.
Containing the scrambling. Especially early, Tech wasn't afraid to blitz. But Tyler Vander Waal also wasn't afraid to take off and make the Bulldogs regret bringing the extra men.
The curse is broken! Kathryn has finally seen a Tech victory IRL. It only took 8 years of us being together and 6 attempts, but she did it!
I'm pleased LaTech ran away with this one.

Pun intended.
I didn't watch, but I'm glad the offense figured it out.
Keith Willis just runs like a tank. It's so much fun to watch him break a long one. On the second TD, I halfway expected him to just keep running and leave a Keith Willis-shaped hole in the DAC
Want to read more about Tech's Week beatdown of NSU, check out BleedTechBlue's recap post here.
Next Game: Tech stays in Ruston next Saturday at 6:00 pm CT to face former conference-mate North Texas. The game will be streamed on ESPN+.
Oh, and the betting line is already in, so go fill out the gtpdd Contest before you forget!