Tomorrow afternoon at 2:30 Central at the worst place on Earth Legion Field in Birmingham, Alabama, the Bulldogs face off with our most hated nemesis: the UAB Blazers. Tech will be without starting QB J'Mar Smith for a second straight week, and will have to find a way to win without him. Winning this game makes a Conference USA Title Game appearance almost a guarantee. Losing it means we're most likely sitting it out.
How to Watch
This game is on ESPN+. If you don't remember, that's ESPN's additional streaming service that costs $4.99 a month and is totally worth it. I watched the Division III Women's Rugby National Title the other day… what more could you ask for? Also, now you can get ESPN+, hulu, and Disney+ in a package deal for $12.99 a month, which I highly recommend because if you aren't watching The Mandalorian, you're wrong. And I don't want you to be wrong! Wait, this isn't my Star Wars blog…
Other People's Predictions
ESPN FPI: Tech has a 58.6% chance to win
Massey: Tech has a 55% chance to win, 27-24
Vegas (OddsShark): UAB -4.5
SP+: UAB has a 53% chance to win, 25-24
BleedTechBlue: UAB wins, 20-17
NCAA 14 Simulation: Will be tweeted out tonight
What to Watch For
Evan: UAB has a really good defense. Like, really really good. They're fast, lean, and don't give up a ton in either the rushing or passing category. That's super scary, especially given that Tech played another good defense last week and struggled to score points with Aaron Allen at the helm.
I can go on and on about how good UAB's defense is, but I'd rather be lazy let the work Nathan already did shine through. Check out his piece on Bleed Tech Blue from earlier this week to see how they rank nationally and whatnot.
The only silver lining, and yes, I'm stealing Nathan's work again, is that the Blazer Defense might just be benefiting from playing some really bad offenses. Here's the chart Nathan made showing where each opponent ranks nationally. Note the teams that UAB lost to… then note where Tech ranks: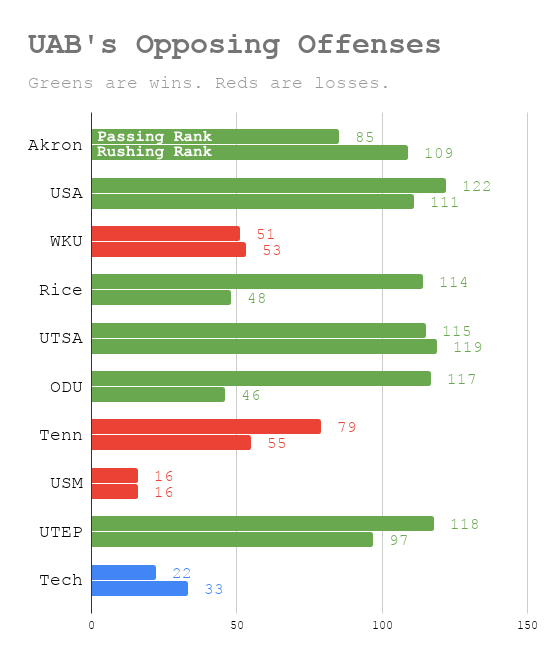 The bottom line is that Tech should be able to beat a team like UAB. But can Aaron Allen be the one that leads the Dogs back to dominating the Blazers?
Hot Taeks
Josh: Tech offense struggles throughout the first half. Allen can't get anything going. Elliot has thrown 3 picks in one half. The team looks beat down coming out of the locker room after halftime. Then a lone figure jogs out of the tunnel way behind everyone else… who is it? Could it be…? Is J'Mar back?!
No.
Ryan Higgins reveals himself with one game of eligibility left. He leads the Bulldogs to the biggest comeback win of the decade. And then he vanishes after the game, leaving nothing but empty bottles.
Evan: UABs QB's will be baaaaaad.
Nathan: I really thought Josh's take was going to be Keanu Reeves Shane Falco coming out of the tunnel at halftime. And just like in the movie The Replacements, Tech will rally from being down 17-0 to win 20-17. Sorry for any spoilers on a 19 year old movie.
Contest Reminder/Update
Go do the contest! UAB fans who are hate-reading this… you should do it, too! We're giving out a dope Pokemon-themed Blaze the Dragon sticker to the highest scoring UAB fan that participates!
🚨🚨THIS WEEK ONLY!!!!🚨🚨

To celebrate the #WeHaveFootBowl we are inviting UAB fans to play the #gtpddContest! Go to https://t.co/K2K4MGnOvh to play! Here's the prize for the highest scoring UAB fan: pic.twitter.com/45SvQ3v5G0

— go tech pls dont die (@gotechplsdntdie) November 17, 2019
Also, for a quick update, last week's winner was SteveyTI, who scored 18 points and won the tie breaker with Daniel Spencer!
The current top ten is:
Final Predictions
Josh: If you would've asked me two weeks ago after the UNT game, I'd still be a little nervous about going to Birmingham to play the Blazers. But now that our starting QB and WR1 are still out, I'm incredibly nervous. It going to be a glorious offensive clown show from both teams unless something has changed within the past week and that means this game is gonna get ugly. I expect the defenses from both teams to capitalize on the injured offenses and try to get off the field quickly. That said, I feel like Tech is ready to bounce back from the ugly showing at Marshall and will come out trying to prove a point. Also, I can't pick against Tech, even if my head tells me it's the probable outcome. Expect a low scoring game.
Tech wins, 22-16 and everyone is mad.
Evan: Uggggggggghhhhh I hate this game. I hate the circumstances we find ourselves in, needing a win to win the division, without our starting QB and our best WR. I hate the team we're playing. I hate the city we're playing in. I hate the opposing fans… But y'all, I think the team hates the way they played last week in Huntington more than I hate anything.
Tech wins, 20-18
Nathan: You never want to play a good team after a bad loss. Tech, even without J'Mar, is a good team. If the defense doesn't give up big plays, we'll be fine. If the offense doesn't turn the ball over, we'll be fine.
And I don't think either are going to happen.
Tech wins 27-7