In only eleven games played this season, Louisiana Tech has already blown two huge leads: a 16-point lead at Louisiana-Lafayette a month ago, and a 17-point lead to Marshall at home last weekend. In a six-game stretch, the Bulldogs managed to suffer through two of the worst four blown losses in the Konkol-era: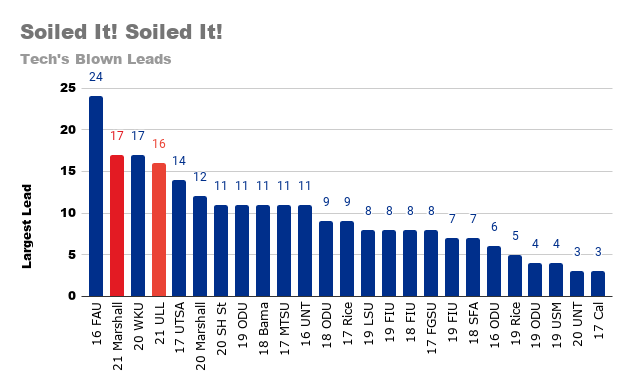 Like with any blown lead by any team, this was the result of starting a game hot and cooling down in the second half while the opponent does the opposite. And in both the ULL and Marshall losses, Tech's opponent's definitely looked better in the second half: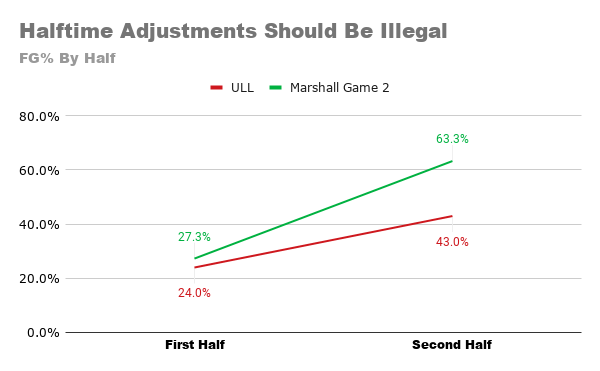 And yes, Tech also just went cold. In the first half against the Cajuns, Tech went from shooting 40% in the first half to 27% in the second. Against Marshall, the Bulldogs field goal percentage plummeted from 46% to 34% after halftime.
But team shooting wasn't the only issue. Rebounding suffered greatly in the second half of both games. Tech went from a respectable rebounding team in the first half, to allowing the other team to dominate the boards in the second half: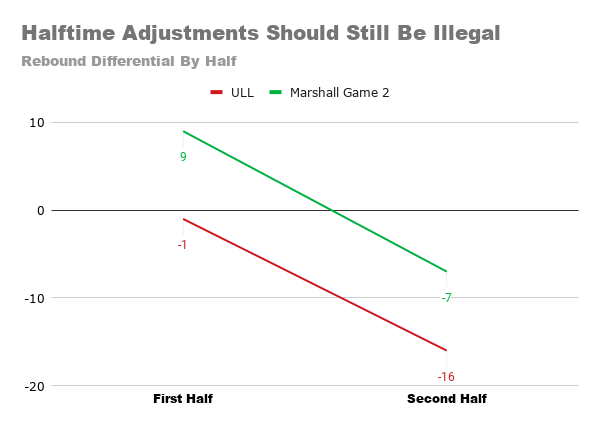 These games look laughably identical in retrospect. The fact that Tech fell apart in similar fashions twice in a month has to be demoralizing. But while the end results of these two games were alike, the personnel decisions made through the second halves were quite different.
Because it's interesting to see how Konkol tried to learn from Lafayette to prevent what happened against Marshall, specifically when it comes to Kenneth Lofton (Junior).
Like we saw above, the rebounding numbers really swung in the Cajun's favor in the second half. That swing started around 10 minutes left in the game, with the rebound margin at ULL +4.
Konkol replaces Isaiah Crawford with Junior on the court. Junior, only a freshman (I know, it's confusing), is easily Tech's best rebounder. KenPom currently ranks Junior as the 136th best offensive rebounder and 154th best defensive rebounder in the country.
But Junior plays two and a half minutes, misses a shot, and picks up no rebounds. At this point, the rebound differential is up to ULL +6.
Five and a half minutes later (with 2:14 left on the clock), Junior re-enters the game. The rebound margin has moved to ULL +12 and Tech is down 57-52. In the next 90 seconds, before Junior is subbed back out, he picks up no rebounds and only appears on the stat sheet when he fouls a Cajun.
Even when Tech was doing well in the first half, it was obvious it wasn't Junior's night. The big man was 50% from the field and only picked up 3 rebounds including the first half.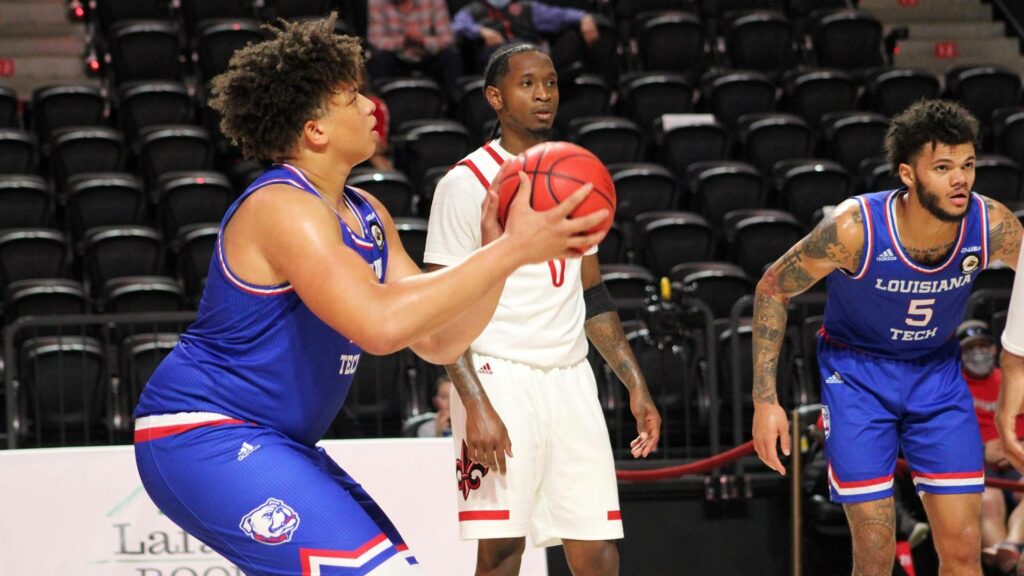 Junior plays above his 6'7 frame, but he wasn't able to grab boards over ULL's 6'11 Theo Akwuba and 6'10 Isaiah Richards who teamed up for 12 second half rebounds.
Tech blew their 16-point lead to ULL, so when things were headed in the same direction against Marshall on Saturday night, Konkol went in a different direction. Junior started the second half on the court but came out of the game as the first group of subs entered at 16:17. And at this point, Tech was still up by 15.
When the lead fell to nine with 12:39 left, Junior re-entered the game but didn't stay long. After two minutes, there was only one rebound opportunity (that a different Bulldog pulled down) and Konkol decided to send Junior back to the bench. 
He wouldn't re-enter until 39 seconds left, and would only stay in the game for three seconds. After Cobe Williams was fouled (and missed the front-end of a 1-and-1), Junior would not see the court again.
From the outside, it seemed that Konkol didn't trust Junior to not repeat his performance against ULL. But while the games had similarities, the biggest difference was that Marshall didn't dominate the boards with their tall players.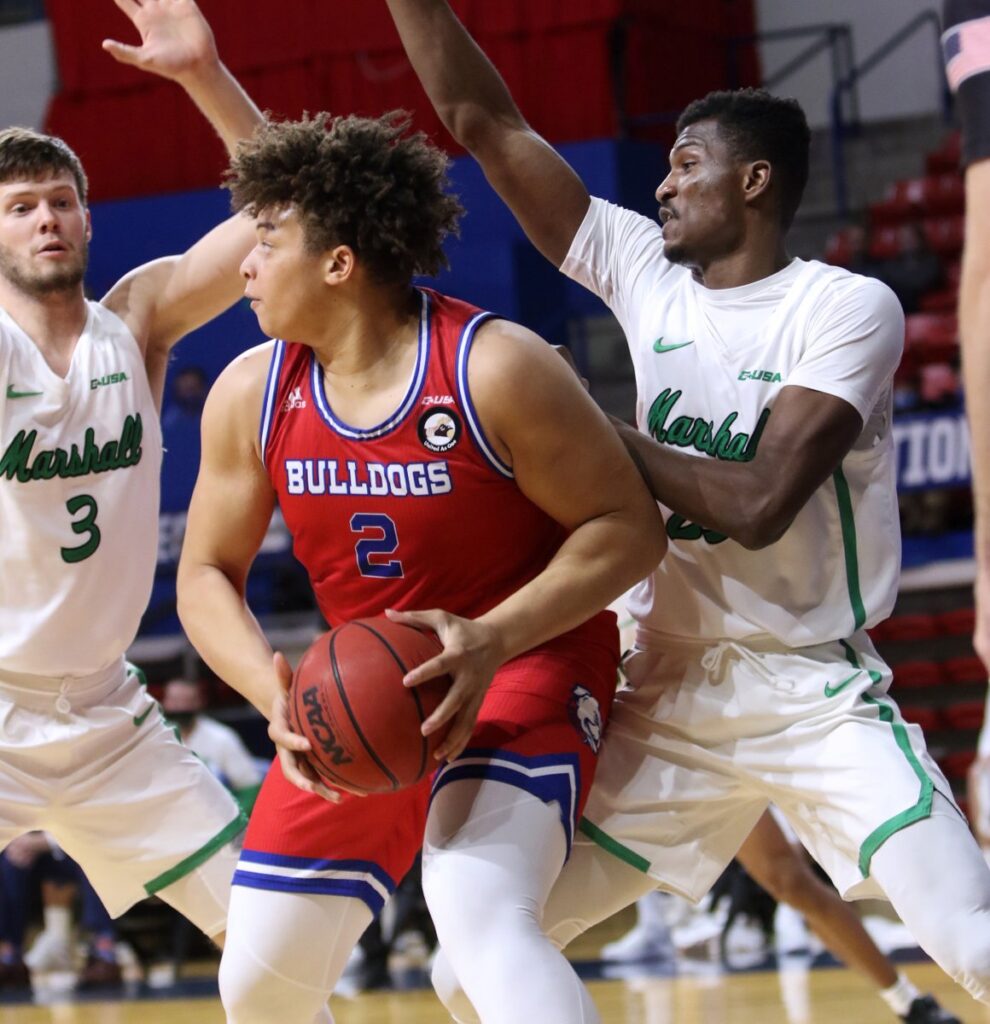 Yes, they had 7'0 Goran Miladinovic, but he only pulled down two rebounds all night. 6'3 guard Andrew Taylor led either team with eight second-half rebounds. The next best Marshall rebounder was another guard, 6'5 Taevion Kinsey. There was room in this game for a tall rebounding presence like Lofton to make an impact, but he was left on the bench.
It's easy to go into what-if mode and think about what would have happened if Konkol used Junior against Marshall like he attempted to use him against ULL. We'll never know what could have happened, but we do know what was done (playing "small") didn't work.
So if Tech enters another similar situation this season, I for one would prefer not to keep Junior on the bench.