Ah midterms, a chance to practice for finals. Or if you were anything like me, a time to start calculating the minimum scores needed on the rest of the exams to pass the class. And just like a bright-eyed freshman, the 2021 Bulldog football team has shown talent and promise, but has a lot still to figure out.
But enough clumsy metaphor, let's take out our red pens and assign some grades:
Core Classes
Quarterbacks: B+
Nathan: If we only needed to look at out-of-conference (OOC) games, we might have started this post off with an A+. But against North Texas, Aaron Allen suffered greatly in the second half, and I'm not sure who was wearing #10 in El Paso, but it sure wasn't the Austin Kendall we've come to know and love. Now that five of the remaining six opponents on Tech's 2021 schedule are soon to bolt C-USA for the AAC, hopefully, the version of Austin Kendall that torches non-conference opponents shows up for the rest of the year.
Evan: Austin Kendall has, at times, looked like the leader we need at the QB position. None of the one-possession losses can be pinned on him – in fact, the only reason we were in those games is that Austin Kendall decided to hang up his… Medicine selling shoes…? And come play QB for the Dogs. I agree with Nathan's B+ rating because he's made mistakes at times. If he has a strong back half that could easily become an A for the season.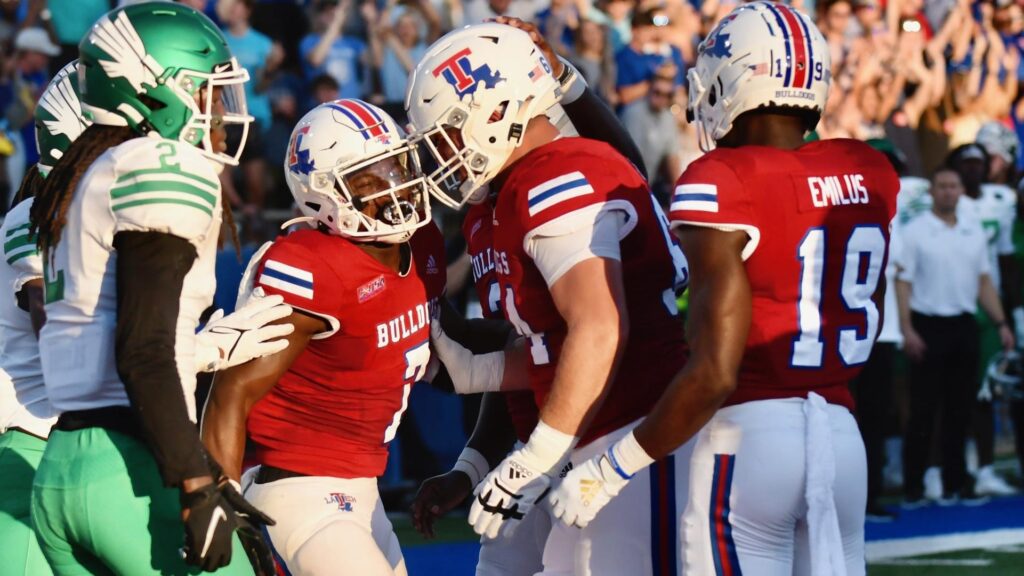 Running Backs: C-
Evan: In the offseason, we were SUPER excited about the prospects of this running back room. "We don't just have one starter, we have four!" we said, numerous times, on our podcast… But that is clearly not the case so far this season. Louisiana Tech ranks 98th in rushing offense with 123 yards per game. Through six games, the best Running Back we have to offer – Marcus Williams – has only rushed for 354 yards, or 59 per game. That's just not enough to move this ranking up any for me. 
Receivers: B
Evan: In contrast to the Running Backs, we were pretty worried about the wideouts during the offseason. We lost our best threat of the last several years when Adrian Hardy declared for the draft, and it wasn't clear who would take over as the "top dog" in the receiving game. Through 6 games, it's clear Tech has more talent than we anticipated out wide. The WRs have very little trouble catching the ball when it comes their way, but what's keeping them down (for me) is the fact that there isn't a tried and true "DUDE" we've been able to count on in the clutch. No receiver is averaging more than 5 catches per game. Still, the youthful combo of Tre Harris and Bub Means is highly promising, and veterans Emilus and Smoke Harris ain't bad either. I'd LOVE to see this turn into an A, they've got the talent for it.
Offensive Line: C-
Nathan: Ask me after the SMU game, and this unit would have gotten an A or an A+. But North Texas kicked off a week-over-week regression that has allowed the QB to take more and more shots each game. Something has to change here because this unit is heading in the wrong direction.
Evan: Coach Guge walked off the practice field in spring ball and said "Coach Holtz, I think I may have made a mistake". While the Offensive line hasn't been THAT bad this season, last year's OL fell apart from being exposed by UTEP. If that happens again, this will be an F REAL quick.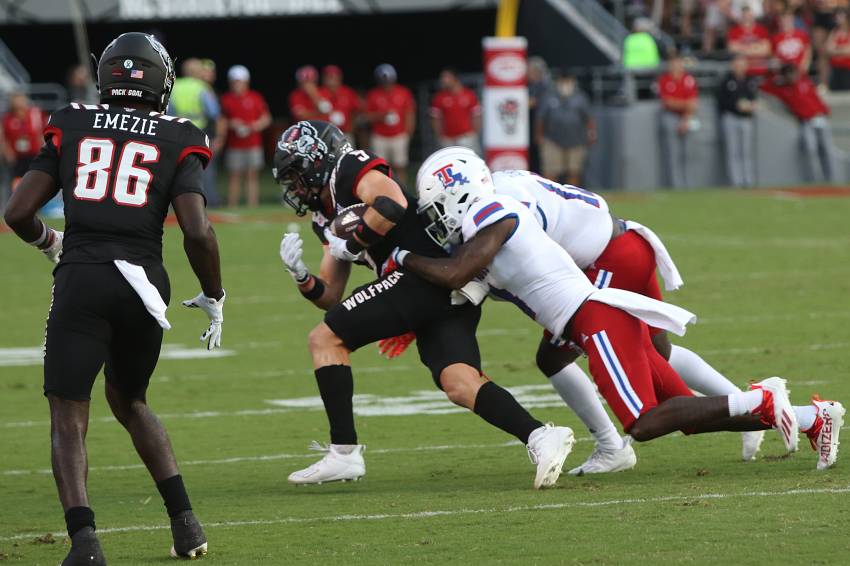 Defensive Line: D
Nathan: While the offensive line has allowed a sack on 6.3% of QB dropbacks, the defensive line has only sacked opposing QBs 3.4% of the time. Both of those seem like low numbers but put another way: the Tech defensive line is only sacking QBs at nearly half the rate of what the C- offense line is allowing. The only reason this grade isn't even worse is that the defensive line was able to hold UTEP to just 2.3 yards per rush on Saturday. A lot of units on this team seem to be getting worse, maybe this is a sign that the defensive line could be improving?
Evan: I would've given the DL a C or C- myself, but Nathan got here first. The unit showed promise in the first few games, but the splitting of the Bell Bros. due to an injury really hurt them in the pass rush. Holding the Miners to 2.3 YPC last week should have been good enough to win, but alas. I'm just hoping that getting Levi Bell back in the fold, coupled with DJ Jackson's emergence as a run stuffer, will help bump this group up A LOT.
Linebackers: C+?
Evan: This one is really tough because we've played teams with wildly different styles. In the first four games, it's almost not fair to give the LBs a grade. They were asked to cover slot receivers on teams that throw the ball all damn day. All-American LB Tyler Grubbs didn't look too great in those spots, yet here he is with 48 tackles through 6 games. Trey Baldwin has been pretty good, too (51 tackles, 1 INT, 1 FF, 4 PBU). I think this rating will go up a lot as we play more teams with a run-heavy approach.
Secondary: C
Evan: In a season that started out with four straight pass-heavy attacks, it's no wonder that Tech's secondary has put up some pretty bad stats. They're allowing 314 passing yards per game, which is 128th of 130. But still, it doesn't feel fair to pin that all on them. In the SMU, MSU, and Southeastern games they got torched, but also kept those games within reach for the Offense to be in a position to win. Against UNT, they put up one of the most dominant statistical performances of any Tech team ever by holding the Meanies to 92 passing yards on 37 attempts. Broderick Calhoun, Cedric Woods, and Baylen Buchanan have had moments of both looking great and not so great. It will be interesting to see how they settle in against teams with less of a passing threat.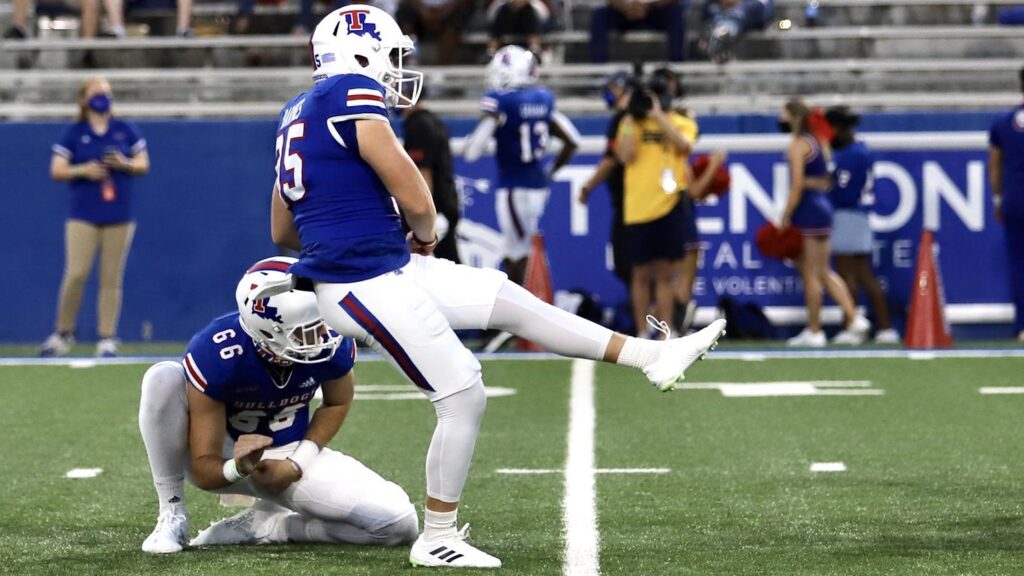 Kicking: C+
Evan: On field goals, Baby Barnes has been fairly consistent, missing just once on a kick that wasn't (partially) blocked. Putting Barajas out there for a try was… interesting, and didn't work out. The Kickers are only earning touchbacks on 17% of kickoffs, with all 6 coming on Barajas boots (for contrast, Tech's opponents have gotten 25 touchbacks). Will we ever have a kicker that can consistently put the ball out of the back of the endzone?
Punting: C
Evan: After Cesar Barajas's 71 yarder, downed at the 1 punt last week, I'd love to give him an A++! To be honest, I think the punting has gotten a lot better this season. The stats back that up last year, Barnes averaged 37.2 yards per punt, which was 84th of 86 qualified punters. This year, Barajas is averaging 40.7, good for 77th of 94… so a slight improvement.
Kick/Punt Returns: B
Evan: Tech's average starting field position is the 31-yard line, which is good for 28th nationally. I guess that means the kickoff/ punt returners are doing their job without being too flashy. Smoke almost took one to the house in the UNT game, but I'd love to see him do that some more!
Coaching: C+
Evan: This was a tough one for me as well. Tech has entered games they were underdogs in by 23, 19, and 13 and lost by one possession each time. The problem is that in two of those three games, coaching decisions (or indecision) seemed to directly cause the outcome to be NOT in our favor. Skip Holtz's offensive playcalling has been fantastic at times (4th quarter against NCSU), and abysmal at others (UTEP, entire game). The rest of the coaching staff has shown flashes (Guge with the OL in weeks 1-4; Blackwell making defensive adjustments against NCSU, UTEP), but could be better. Blunders like the clock management at the end of the NCSU game ultimately fall on coaching, for better or worse.
Electives
Gameday Atmosphere – C-
Evan: Honestly, this one hurts a little to grade. I love Tech, always have, always will. When I moved to DFW in 2020, the first thing I did was think about buying season tickets to the 2021 football season (well, the first thing I did was hope we'd get an NCAA Regional I could go to!). I've been to 2 of the 3 games so far this year… and the atmosphere just isn't what it was even when I was in school 10 years ago. Tailgating is spread out too much, fewer people are going to the games, the Band is wearing gray and sitting in gray bleachers… there's just a lot to be desired. I will say that the Joe's pressure wash and a new coat of paint look amazing, and with potential new projects on the horizon, the stadium and surrounding area should be getting nicer and nicer. I just hope fans come around to take part in it.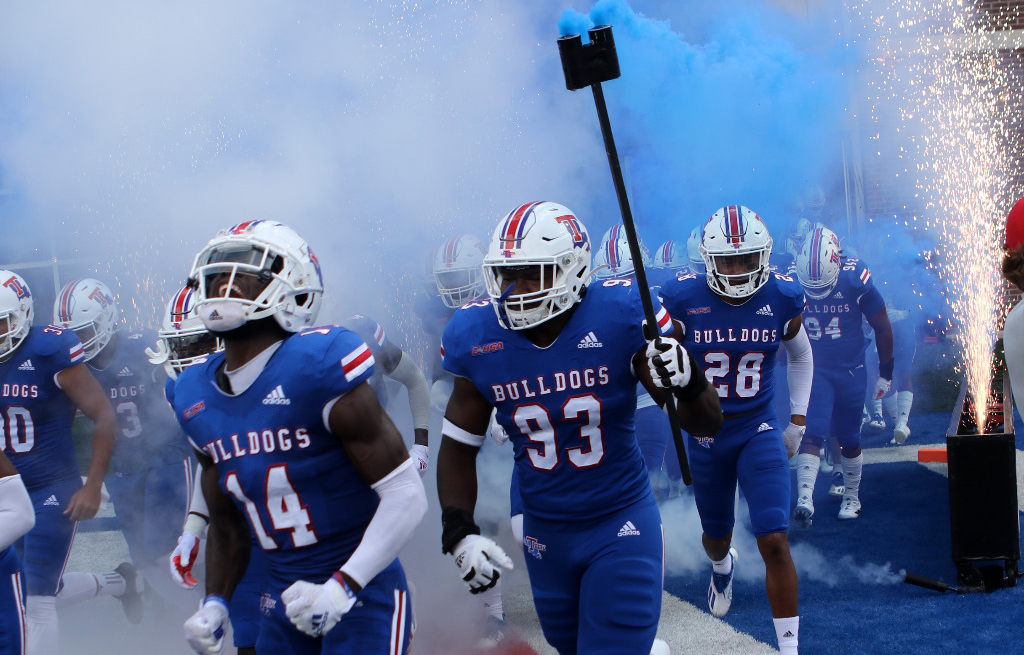 Uniforms – A
Nathan: C'mon, our uniforms are amazing. Stop messing around with the shoulder stripes and add a Columbia blue alt and this would be the easiest A+ in the history of public education.
Evan: Gotta go B+ until we add the Columbia Blue throwbacks and get the shoulder stripes sorted.
TV Coverage – C
Evan: So far this year, I've been able to watch all of our games without signing up for a free trial of whatever random flavor-of-the-month streaming service has Stadium. Granted, I've also GONE to the home games… So that helps. But this is higher because I HATE when ESPN doesn't send an actual crew to the game, which they did for the NC State game. It's a joke and a trend that absolutely HAS to stop. Spend the money to send announcers to the environment, Disney, we know you've got it!