Football is an odd sport, especially when it comes to scoring. Touchdowns are worth six points. Field goals are worth three. A safety is two points, except when it occurs on a Point-After-Touchdown (PAT) attempt, then it's worth one point. Oh, and those PAT attempts can be for one or two points.
Add all that up, and you can get some weird scores. Often games will end with boring final scores like 24-10 or 35-28, but every now and then you get something special, like a 37-4.
Scorigami (created by Jon Bois) is a celebration of these odd scores. The idea is to visually showcase all the different combinations of the scores that have happened. The original idea was for the NFL's history of games, but several other versions have been made.
So let's make a Tech version! You may need to click on the image below to see it in enough detail.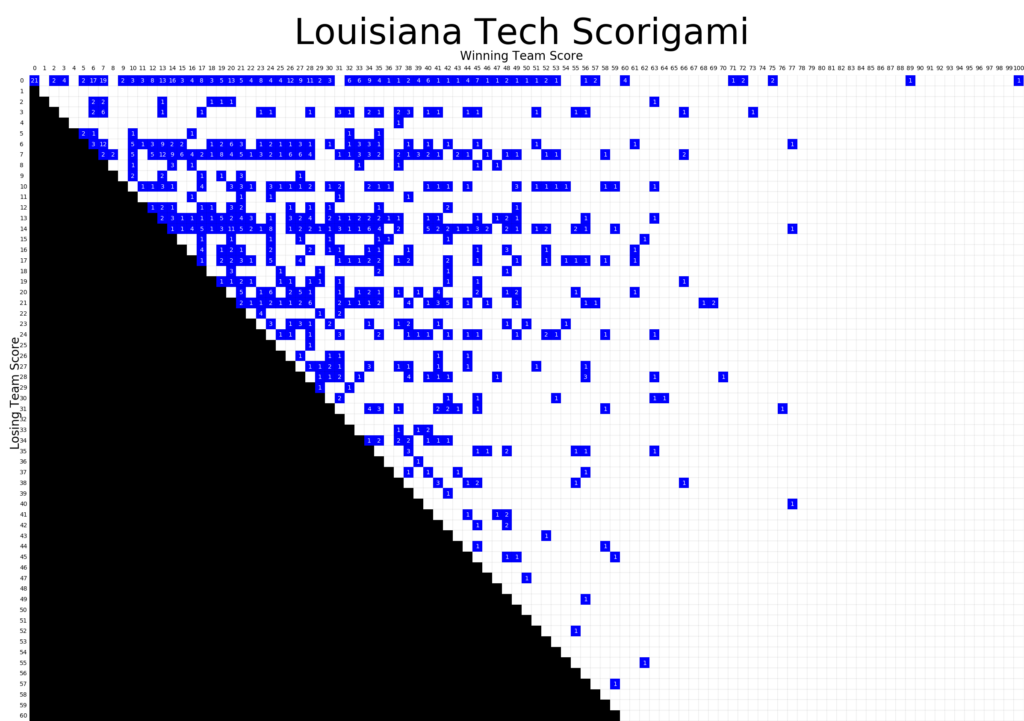 Since we're making this for one individual team's games, we can also show which games Tech won, lost, or some combination: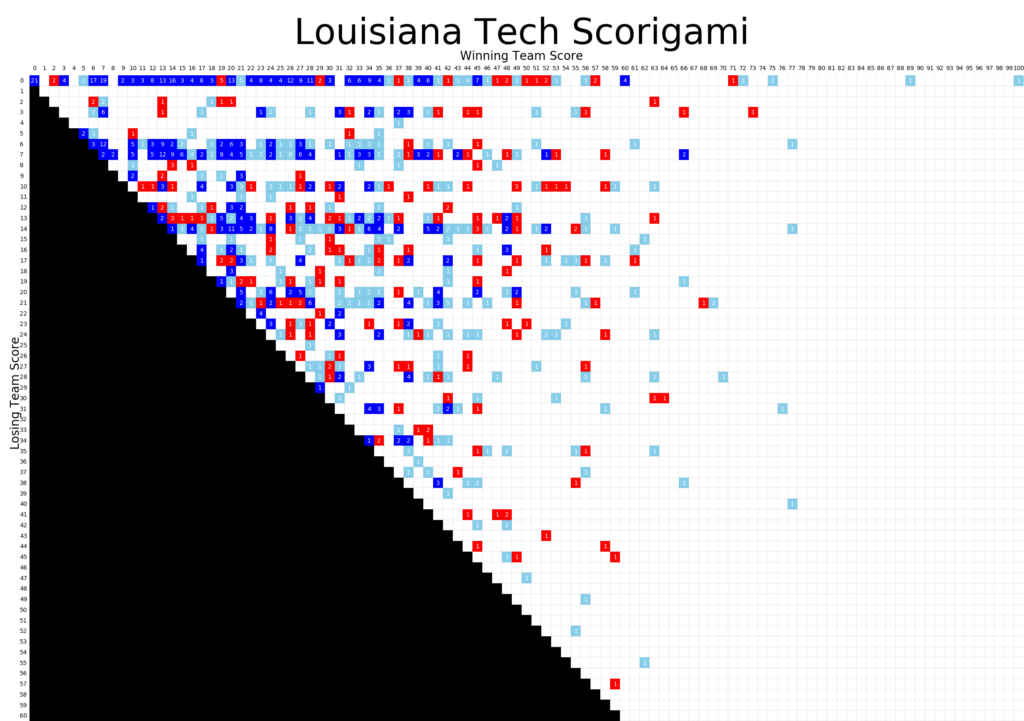 As you'd expect, there's a large cluster around the areas where teams score seven to 35 points. But those aren't the interesting ones. Let's look at the outliers.
One_Hundred.emoji
Louisiana Tech 100 – Clarke Memorial College 0 (October 28, 1922)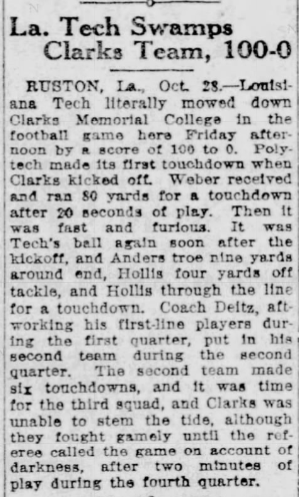 The most points Tech has ever scored in a game came against Clarke Memorial College in 1922. The Bulldogs defeated the Mississippians so badly that the school would close its door 69 years later. In this game though, Tech returned the opening kickoff for a touchdown and never looked back.
source: The Shreveport Times, 10/28/1922
Taylor Swift's '89
Louisiana Tech 89 – Southern Arkansas 0 (November 18, 1922)
This might be the time to bring up the coach in 1922. This was William Henry Dietz's first year as head coach in Ruston. Dietz would later become head coach of the Washington Redskins and has a history that I very much recommend listening to.
Johnny Football's Coming Out Party
Louisiana Tech 57 – Texas A&M 59 (October 13, 2012)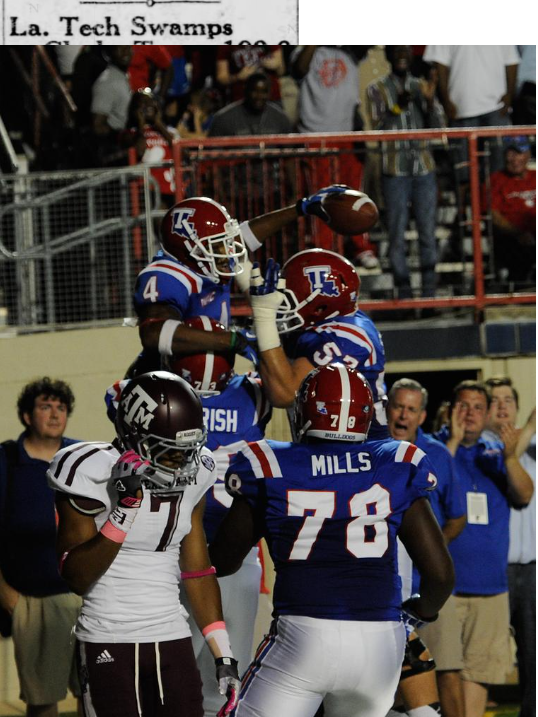 The best football game I have ever seen in person, it should surprise nobody that a Sonny Dykes offense helped set the school record for the second most combined points scored in a Tech game with 116. Had that possible game-tying two-point conversion worked out, the record would have been broken.
The Most Points Scored Part One
Louisiana Tech 62 – Texas State 55 (November 10, 2012)
Well, Dykes didn't set the combined points record a few weeks later with 117 combined points, but he did tie it. Also, fun fact: this game was Tech's last win in the WAC. The next two games will not be talked about here.
The 77s
Louisiana Tech 77 – Ouachita Baptist 6 (1908)
Louisiana Tech 77 – Lamar 40 (November 15, 1969)
Louisiana Tech 77 – Louisiana-Lafayette 14 (September 19, 1998)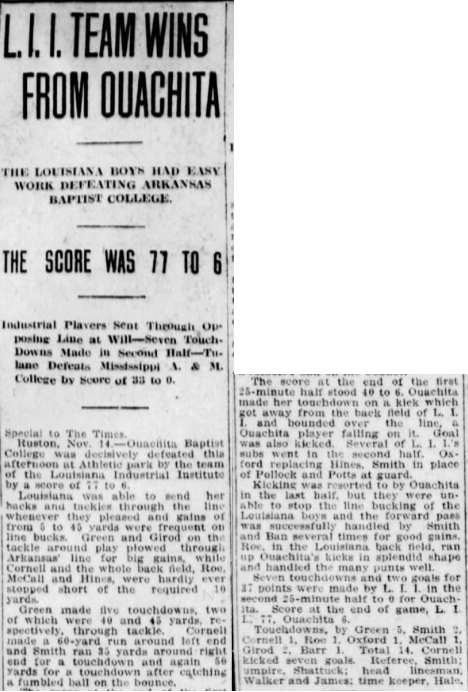 On three different occasions in three very different eras, Tech was able to put up 77 points on the scoreboard. As Louisiana Industrial Institute in 1908, Louisiana Polytechnic Institute in 1969, and Louisiana Tech University in 1998. That 77-40 win over Lamar is the other game in Tech's history with 117 combined points with Maxie Lambright as head coach.
source: Shreveport Times, 11/15/1908