2020 was not a fun year. One of the (relatively minor) reasons last year sucked was the universe stole a college baseball season from us.
Well, most of a season.
Tech did get to play 17 baseball games in 2020 and won 11 of them. Those eleven wins included two wins over a ranked ULL team in Lafayette and a four-game sweep over Maine with some football-like scores.
And the Bulldogs were playing their home games at Ruston High (and had planned to stage some home contests in Jackson, MS, and Monroe) because of the tornado damage to JC Love Field. Without a true "home," it would have been difficult to see the Bulldogs put up the results needed to get into the NCAA Regionals.
But Covid-19 came and hit the reset button. Nearly every Bulldog from the 2020 roster returns for 2021, if only to play in the completely re-built JC Love Field. And some of those returners had some amazing 2020 stat lines before the year screeched to a halt.
Position Players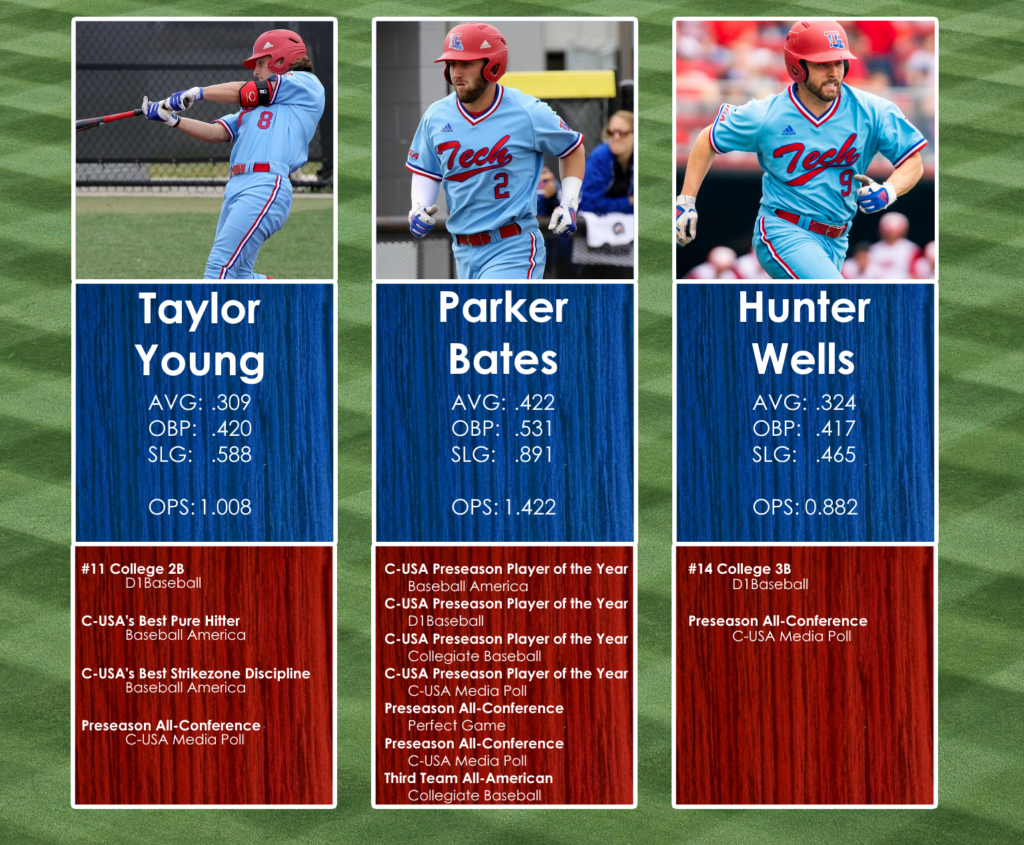 I had to make a graphic, or I'd probably have to reserve half of this page to simply listing all of the awards those three have picked up over the offseason.
Taylor Young won the "Best Strikezone Discipline" award for good reason (although it does kind of sound like the award you'd give at the end of the season party at a Pizza Hut where everyone on the team gets an award).
In 2020, Young only struck out 11% of the time he entered the batter's box, second-best on the team. And before you worry too much about sample sizes for 2020, it's likely Young would have brought that strikeout average down by the end of May. In both previous seasons that Young had been on the roster, he struck out even less.
The hole in Young's game is taking walks though, and that's something that has changed year-over-year for the Tyler, Texas native. As a freshman, Young drew a walk in a quarter of his at-bats. The next year, that number was down to 15%. And in 2020 Taylor Young only earned a free trip to first base on 8% of his plate appearances.
But what Taylor Young has improved over the years is his home run ability. In the 106 games in his freshman and sophomore campaigns, Young only hit five home runs. In the 15 games of the shortened 2020 season, he hit four. If that's not a fluke, Tech may have an above-average home run hitter than nearly impossible to strike out.
Hunter Wells, by contrast, is more of a pure contact hitter. In his four years with the Bulldogs, he's only stretched six balls over the outfield fencing.
But what Wells can do is get on base with a swing of his bat. His Tech career batting average of .325 is currently in the Top 2% of college baseball.
Parker Bates may be the scariest player on this roster for opposing teams if he's even close to the ballplayer he was a year ago. In 2020, Bates put up an OPS (On-base Plus Slugging, one of the better stats for comparing players) of 1.422. Looking as far back as 2000, no Bulldog has ever ended a season with an OPS that high. Bates has earned all of those awards from all of those publications because they believe that last year was not a fluke.
Bates looked like the real deal in 2018, then took a step back in 2019. But 2020 was magical for Bates, who ended the shortened season with nearly as many home runs (6) as strikeouts (7).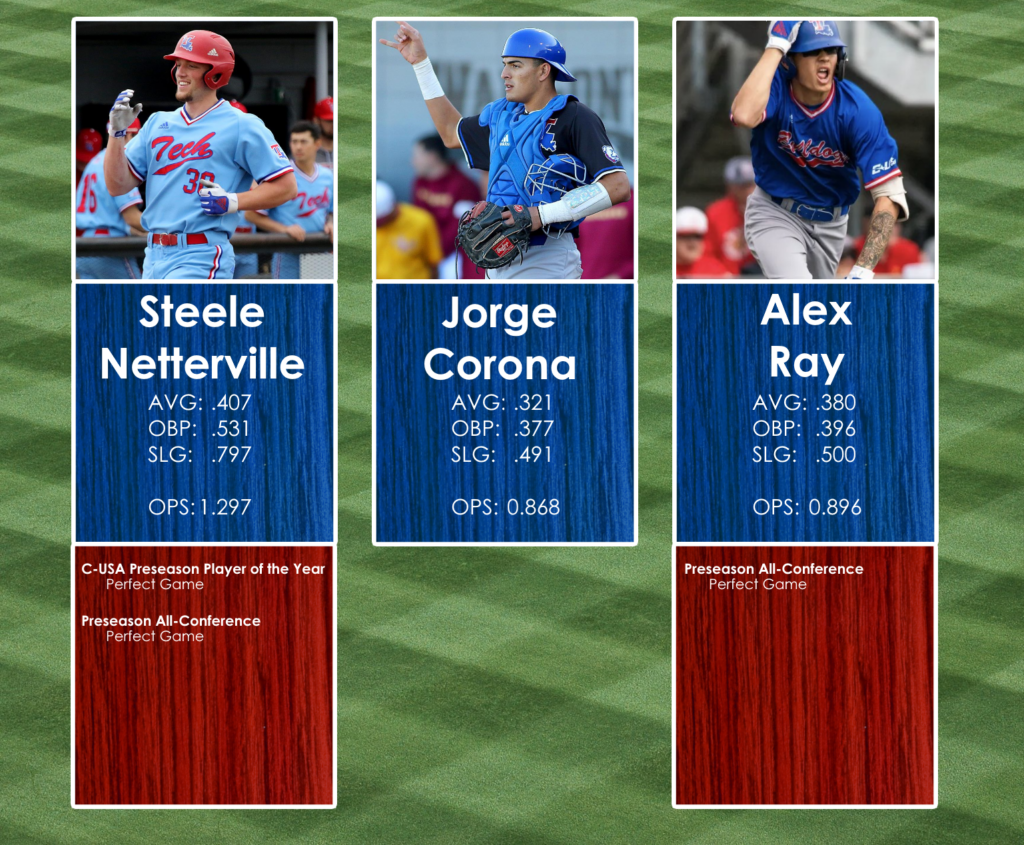 Steele Netterville also went off in 2020, but had shown flashes in the past, and maybe much less likely to regress than Bates in 2021. As a freshman, Steele batted .324 (with an OPS of 1.035) but struck out 23% of the time. In 2019, Netterville was even worse at avoiding strikeouts. But last year, Netterville only struck out 18% of the time while maintaining an OPS over 1. If his eye can continue to improve, and his bat stays constant this year, Steele Netterville may end up as the team's MVP.
Alex Ray had a great average (.386) and OPS (.936) last year, but he struggled in other areas. The former FAU Owl only drew a walk on 4% of his trips to the plate and struck out 27% of the time. Like Netterville, Ray can be boom-or-bust at times and is one key skill away from breaking out.
The picture for Alex Ray in the image above was the only one I could find of him in a Bulldog uniform. So I hope he
Strikes out fewer times, and
Gets some better photos taken
I know you may be tired of hearing it, but Adarius Myers too has a strikeout problem. Last year as a redshirt freshman, Myers struck out 34% of the time. But he was a 2-time 3A Player of the Year in high school in Mississippi, so I'm curious to see how he bounces back.
Jorge Corona and Kyle Hasler came into last season as true freshmen and competed for the open catcher position, one of the biggest question marks on the team going in. But somehow, both had successful 2020 seasons. Corona is still the probable starter (if only because Tech seems the same thing in him that the Kansas City Royals did when they drafted him out of high school), but in the five games Hasler played a part in, he showed up in a big way, ending with an OPS of 1.070. All in all, having two good catchers is much better than having none.
Pitchers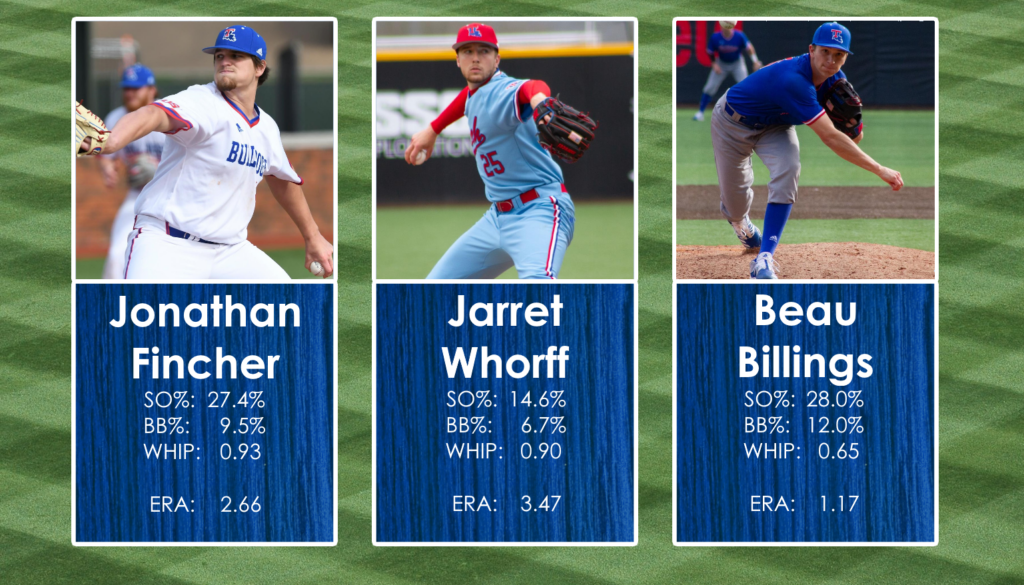 Of last year's rotation, Jonathan Fincher had the most success on the mound. Having spent the previous year coming out of the bullpen in relief, Fincher made the most of his 2020 starting position by leading the group in ERA, strikeouts, and batting average against.
Jarret Whorff is who I'm personally the most curious to see in action in 2021. Whorff, a transfer from Panola College, started the year as the breakout star of the pitching staff. In Whorff's first three starts, he maintained a 1.21 ERA with more strikeouts than hits allowed (12 to 9). But in the final weekend of play, Whorff was pulled after only one inning, where he gave up 6 earned runs in 39 pitches. Which was the fluke: the first three games or the last one? I'm excited to find out.
Tyler Follis, the third weekend starter, is probably the closest thing Tech has to a strikeout specialist in the rotation. His 20 strikeout to 12 walks allowed ratio was the best on the team, even if it was slightly worse than what Follis was able to do out of the bullpen in previous years.
The first line on Kyle Griffin's bio page on Tech's website says that Griffin "Had a very Kyle Griffen year" and that may be the best way to put it. Griffin is the swiss army knife on the mound, able to come out of the bullpen or start if needed. In 2019, Griffin made an appearance in 34 games, setting a school record. With the Bulldogs playing four-game weekends throughout conference play, having a utility pitcher like Griffin can be the ultimate asset.
Beau Billings was ultimately the guy coming out of the bullpen last year. In 7.2 innings Billings posted a 1.17 ERA as a sophomore. Yeah, I know I know, small sample size, but just imagine if Billings can sustain something like that this year.
Newcomers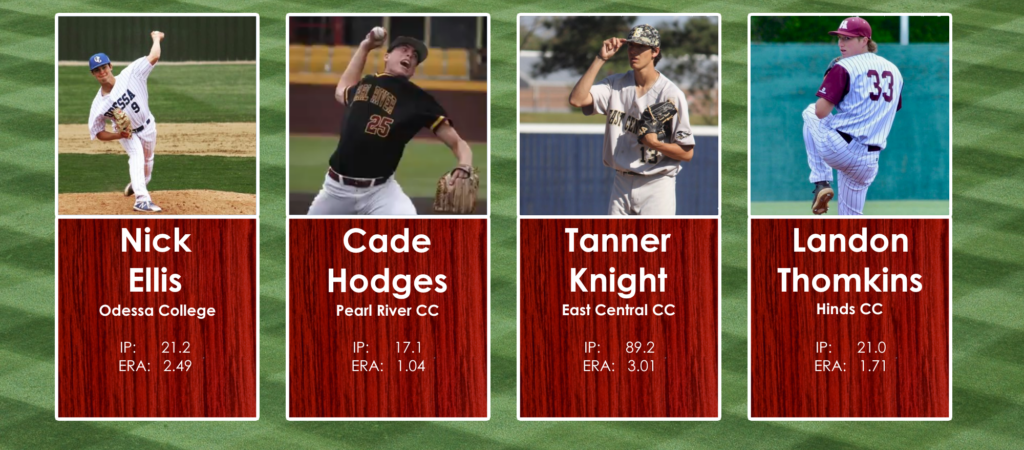 All four of Tech's junior college transfers are pitchers. Based on everything above in this post, this should not be surprising. Tech should have enough solid bats this year, the success of the season will probably come down the arms.
Tech also welcomes to the program five freshmen, including four pitchers.
Schedule
First, we need to talk out-of-conference schedule, because this might be the best OOC schedule Tech has ever put together. The first two weekend series are against Southern and McNeese, but then Tech hosts Arkansas for a three-game mid-week series, then Ole Miss for the following Tuesday and Wednesday. Then sprinkle in a home-and-home series with ULM and ULL, two games at LSU, and a weekend at Tulane.
Oh yeah, and don't forget one of those LSU games comes this weekend, and also features the Bulldogs in matchups and Notre Dame and Air Force.
Then we jump in C-USA play. Because of Covid, the conference is scheduling 4 game weekends, usually with scheduled seven-inning doubleheaders on Saturdays. C-USA is also instituting travel partners for baseball this year, which means that Tech will play Southern Miss in two separate four-game series, one in Ruston and one in Hattiesburg.
Eight games against the Golden Eagles may be the strength of schedule bump that Tech would need to get an at-large into an NCAA Regional. Southern Miss is overwhelmingly favored to win the conference this year.
And rather than list the other conference opponents Tech will face, let's just jump to the schedule chart, that shows how difficult each game should be (for reference, Tech is currently #67 in RPI):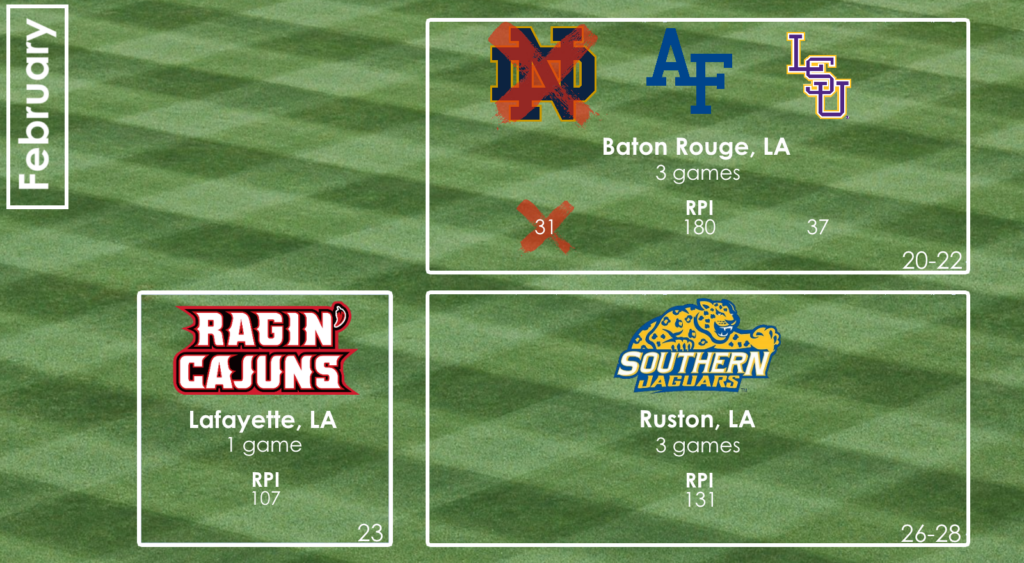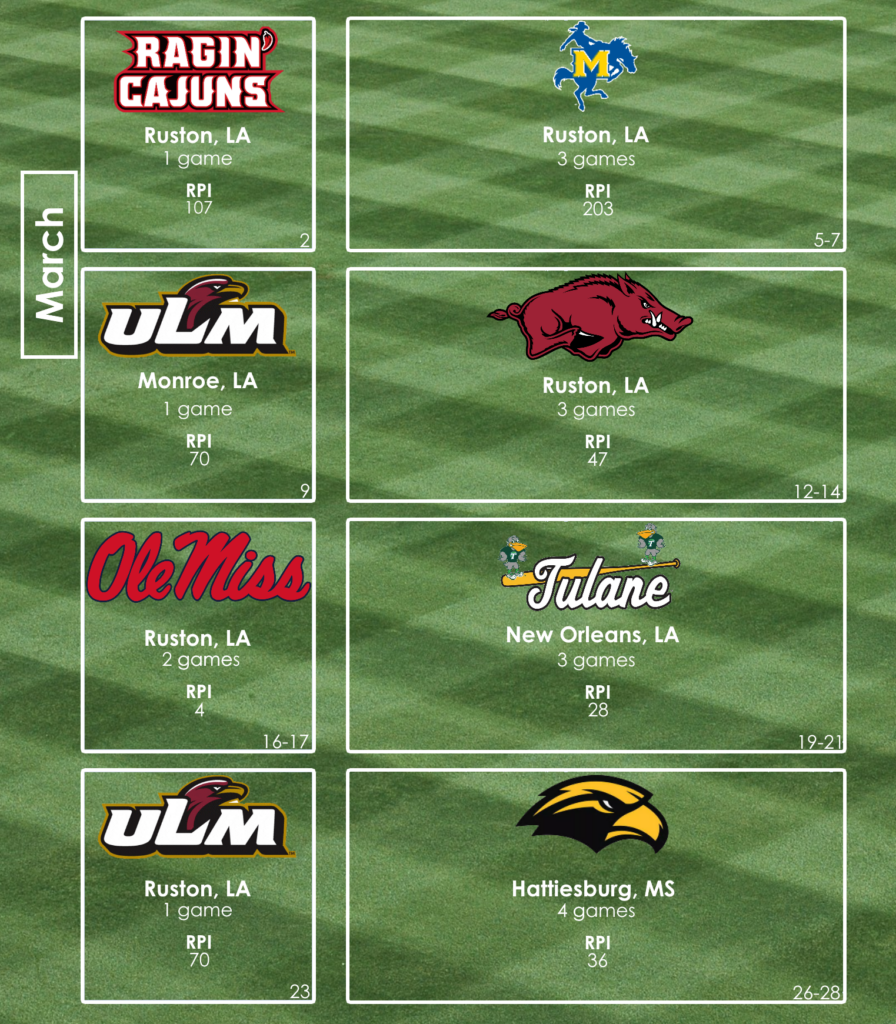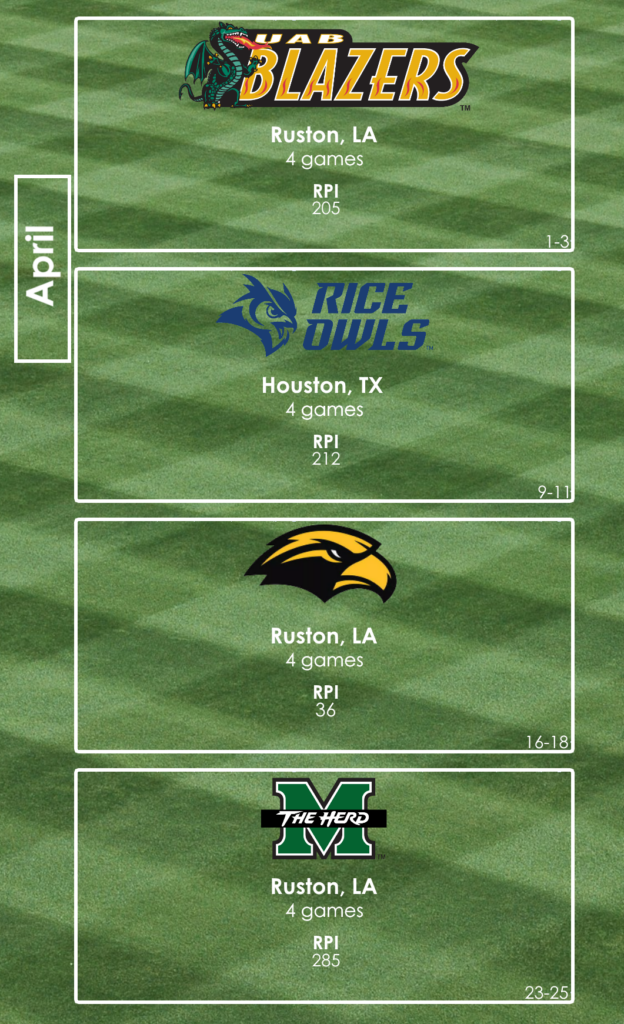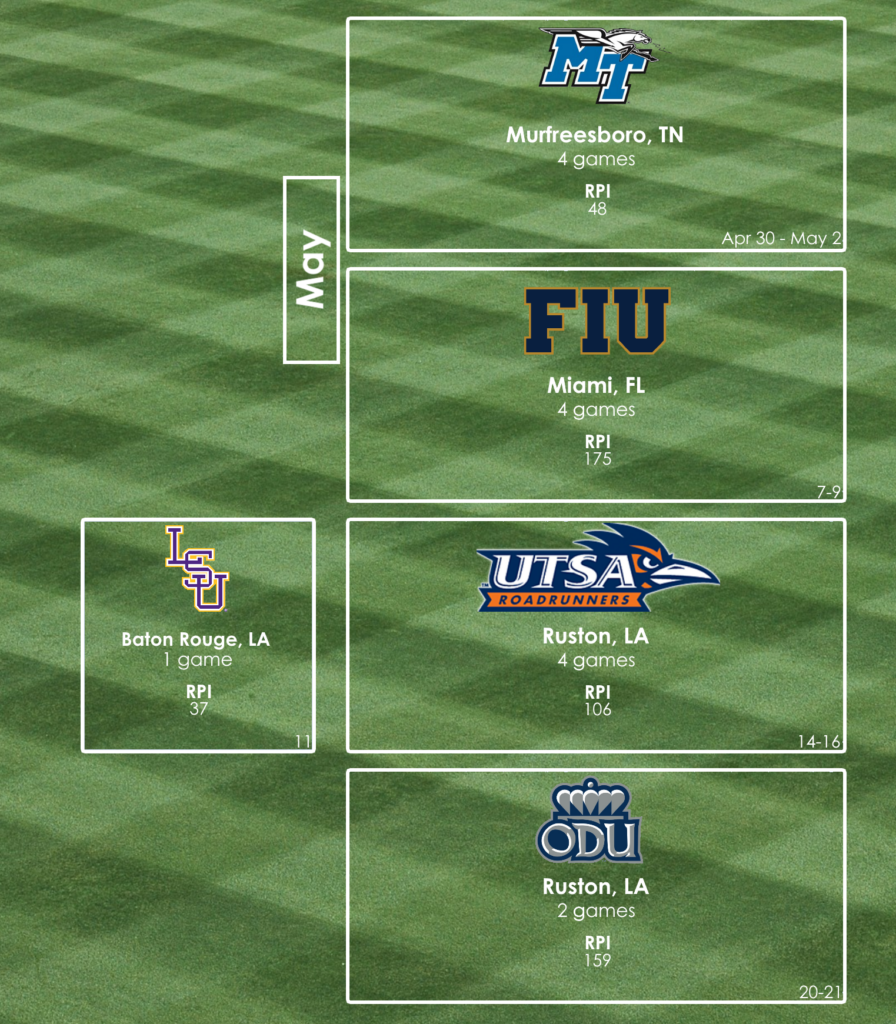 This will be a difficult year for the Bulldogs, but this has a chance to be the best Tech baseball team we've seen in a long time. Tech has the experience and talent, so the only thing the Bulldogs will need to do is put it all together.