Ever since 1865, when Ned Cuthbert decided to run to second base while the pitcher wasn't paying attention, stealing has been an important part of the sport of baseball.
Well, important to everyone except the 2021 Louisiana Tech Bulldogs.
Watching the games, it's been obvious for a while that Tech has problems throwing out runners. But allowing 30 straight stolen bases without a caught stealing is atrocious. Especially because I can't remember the last time the Bulldogs stole a base themselves.
The box scores say that Tech does occasionally steal. But without peeking, I couldn't tell you the last time it happened. And that's because the Bulldogs have only tried five times in the last 14 games. Even looking at the season as a whole, Louisiana Tech averages only 0.65 stolen base attempts per game, the 14th fewest in Division 1 baseball.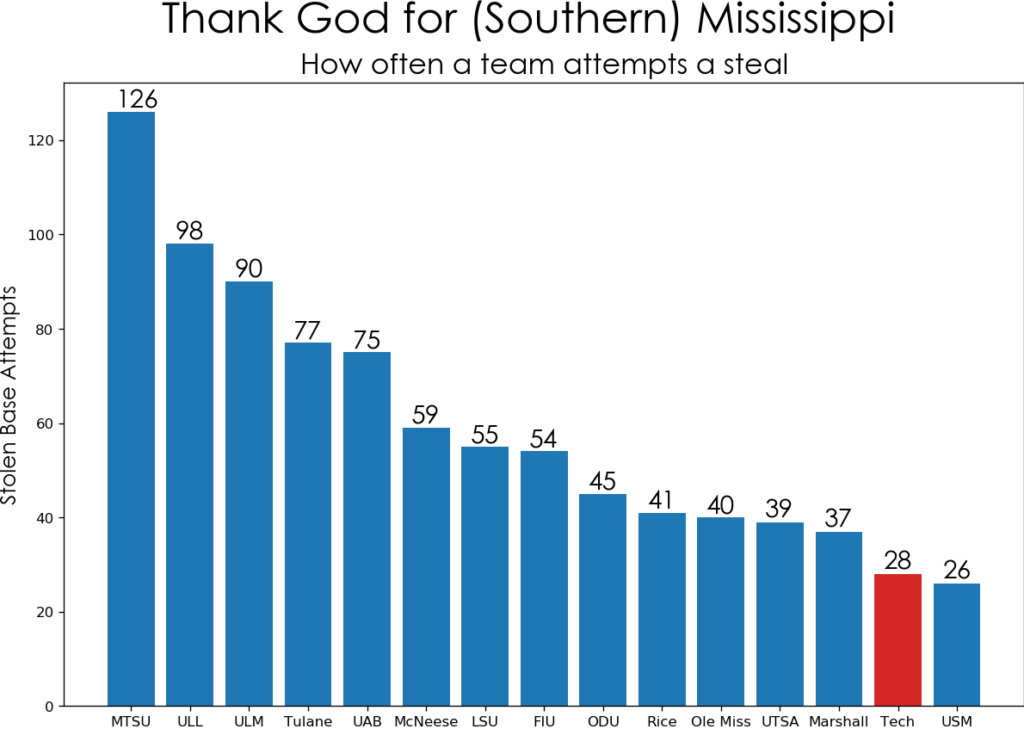 This isn't surprising, but it still feels shocking. We only need to think back to 2018 to remember Mason Mallard, who finished that season as the 61st best base stealer in the country (and who was also the subject of one of the first posts on this blog).
Just by himself, Mallard had 26 steals three years ago. Only two fewer than the Bulldogs have as a team right now.
The two years between 2018 and now weren't like this either. In fact, in the Greg Goff and Lane Burroughs eras, this year sticks out like a sore thumb on your sliding hand: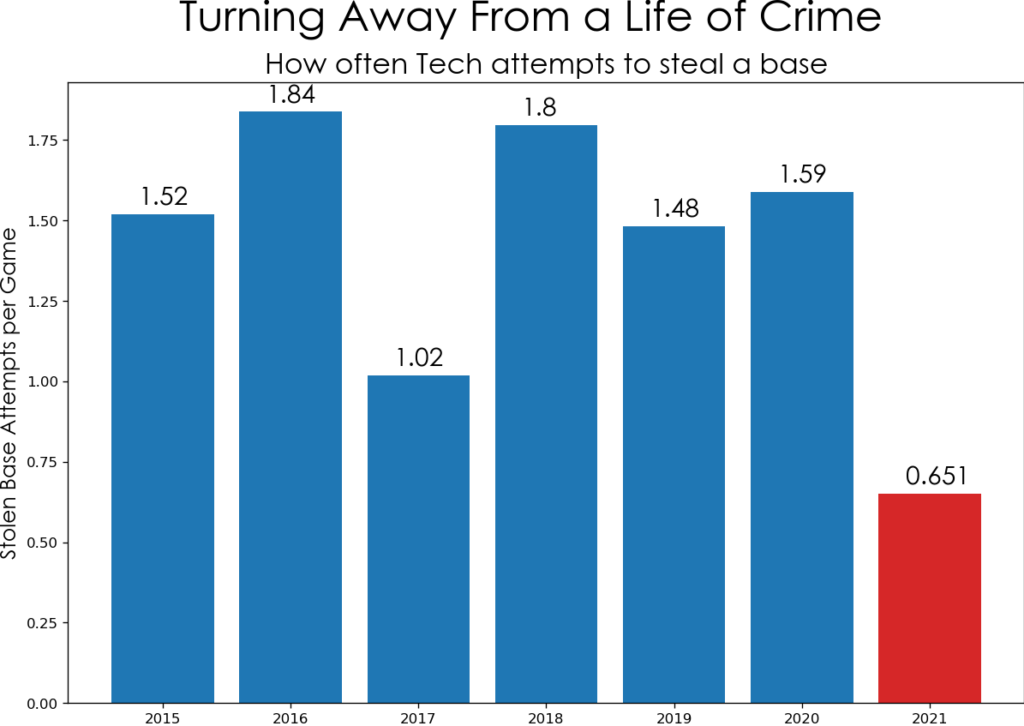 The difference between this year and previous ones is so drastic that Tech only has one more stolen base attempt this year than they did in the covid-shortened 17-game 2020 season.
But as Linkin Park once put it: "in the end, it doesn't even matter," right? In 2021, the offense has been the heart of this Bulldog team. It's also arguably the brain, soul, and spleen of this team. Risking baserunners to advance one base may not be worth it if you can consistently hit.
It's the other side of the game (defense and pitching) that needs as much help as it can get. And allowing all these stolen bases certainly isn't helping.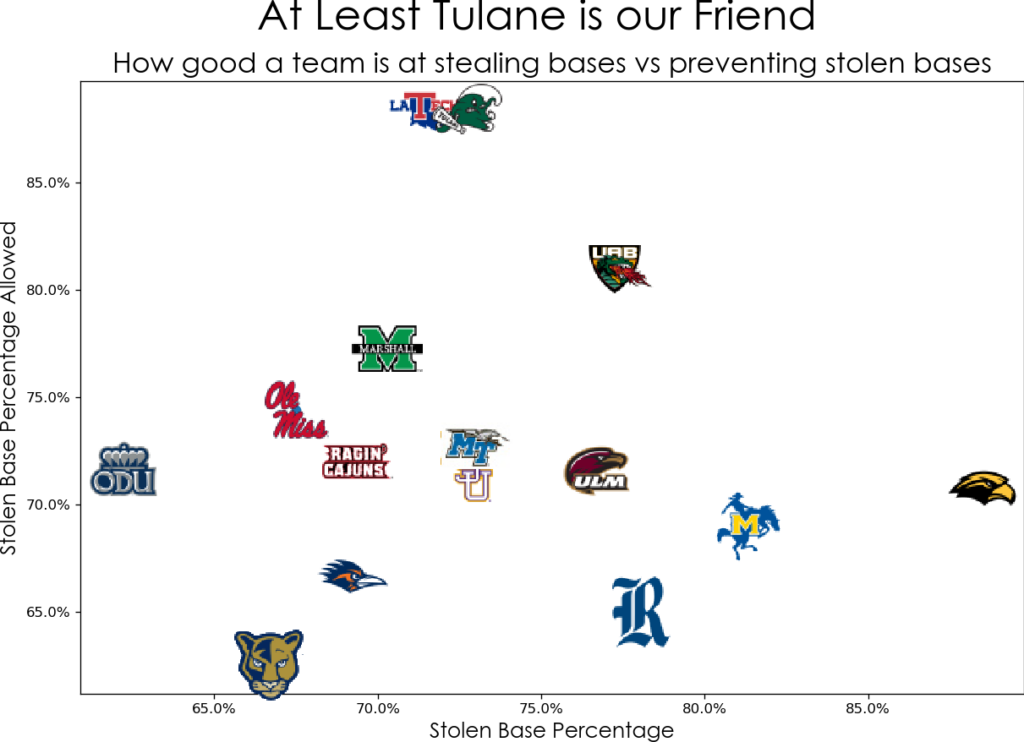 As of the end of last weekend, 10,709 bases had been stolen in college baseball on 14,301 attempts. That's a national stolen base percentage of around 75%. So about a quarter of the time a baserunner tries to steal, they get thrown out.
Louisiana Tech, meanwhile, is only throwing out baserunners 12% of the time. Less than half the collegiate rate.
And in no game was this inability more on display than the first of the Middle Tennessee series. On Friday night, the Bulldogs allowed seven stolen bases without stopping a single attempt. I bolded it in the previous sentence, but it's worth emphasizing even more: seven stolen bases. One more on the punch card and I think they would have gotten a free sandwich.
Since 2006 (as far back as I have data for), Tech has only allowed seven steals in a game twice: in 2007 against Sacramento State and in 2008 versus Nevada.
Now, granted, allowing seven stolen bases also means the other team wants to try seven times. And based on the first chart in this post, MTSU likes to steal a lot. At 2.93 stolen base attempts per game, Middle Tennessee is the seventh most steal-happy team in college baseball.
But even though the team likes to steal, it was often just too easy for the Blue Raiders on Friday night: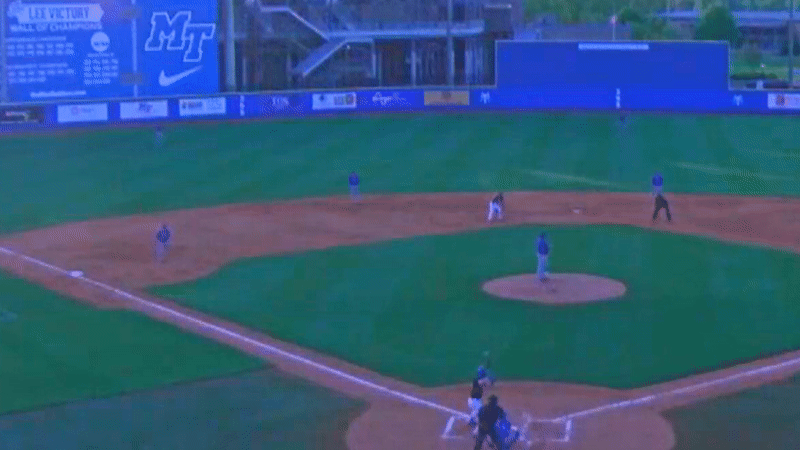 It's a great jump, but stealing third base on a ball high and outside without even a throw is about as bad as it gets.
Also I zoomed in from the Earth satellite view MTSU used for their CUSA TV broadcasts (and brightened it a bit), but sadly I don't have access to CSI-level enhance technology.
But let's jump back to that LA Tech Sports Report tweet.
Now after looking through all the data, thirty consecutive allowed stolen bases isn't the surprising part of this tweet. With how this team has been defending the steal, a streak like this was bound to happen.
It's the second sentence that's interesting.
Jorge Corona ended up throwing three runners out on Saturday. And the Bulldogs only allowed one more stolen base for the rest of the weekend.
Overnight, it seems like Tech was able to put an end to the second and third base thievery. And to do it against a team like Middle Tennessee makes it more impressive.
It's way too early to hang the mission accomplished banner and say Tech has fixed their issues with giving up free bases. But this team has very few weaknesses (yes, including the bullpen). But in the weeks ahead, if it looks like Tech has figured this one issue out, one of the best baseball teams in school history may have gotten even better.