UPDATE 8/22/2022: Since originally posting this article, I figured out (shoutout Chris Mycoskie) that "ESPN3/ESPN+" means that ESPN hasn't decided which "channel" the game will be on. Since a lot of them may end up on ESPN+, that means Hulu Live is *probably* the best bang for your buck. At $70/month, it includes the $10/month ESPN+ at no extra charge. With YouTubeTV, you'd need to add a $10/month ESPN+ subscription on the side. Sorry for the confusion!
The 2022 college football season is less than a month away! That means it's time to pull up the schedule, make plans to visit Ruston, and figure out how to catch the other games on TV.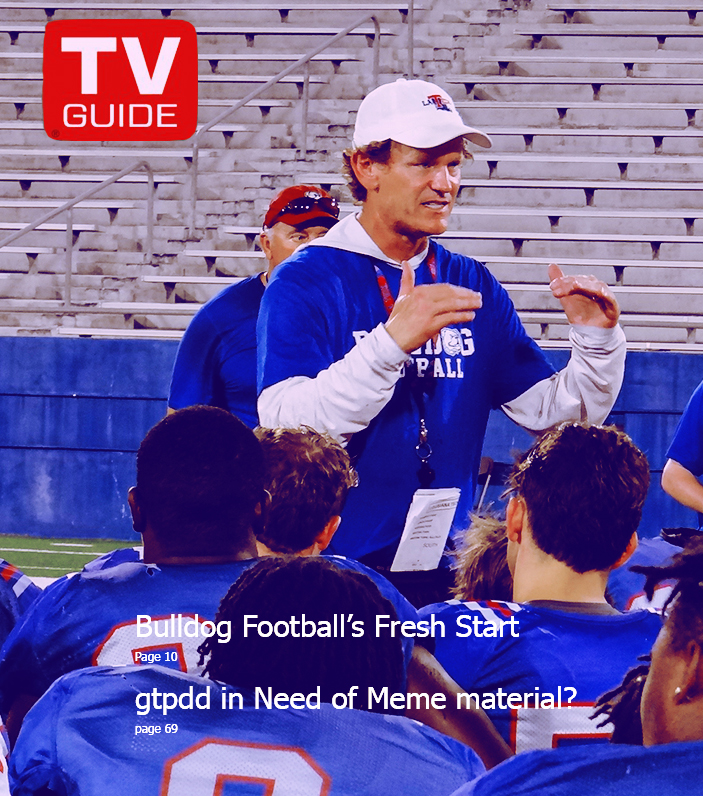 In the Year of Lord Terry Bradshaw, MMXXII, if you're still paying for a cable box… can I come to your house for the game?
But seriously, in the past we have included a "how to watch this game" in all of our pregame coverage. Whether it's getting a free trial of a streaming service, or *gasp* PAYING for a streaming service, we here at gtpdd want you to have all the information at your fingertips before making your decision which service to go with. That's why this year, we've put together a handy, dandy chart to let you know which streaming services do, and do not, carry Louisiana Tech's football games this season.
By the end of this article, you'll see which streaming service is the best bang for your buck to catch the Bulldogs over the (digital) airwaves.
But because I loathe articles that promise answers and then make you wait til the end, I'm flipping the script:
YouTubeTV is the best bang for your Bulldog buck.
At $65/month, you can catch every single Tech game with no add-ons and no gimmicks. There may even be a promotional offer to sign up for a lower price, but that sort of stuff is time sensitive… more on that later.
Before we jump in, a note: As of this writing, Tech's September 24th visit to South Alabama is still listed as "TBA" for both time (actually they just announced it will kick off at 6:00 PM, but I am not remaking the graphic, sorry!) and network. Seeing as how the Sun Belt loves to brag about its TV deal with ESPN, I assume this game will be on some flavor of ESPN. Probably the 3 and/or plus variety, taking a stab in the dark.
Streaming Guide to Tech's 2022 Season
As you can see, the value of each varies with which games you plan to attend in person. If, for example, you plan to travel to Miami for the FIU game and to Ruston for the UAB game, you don't have to worry about CBSSN, and can go with the cheapest option: Sling Orange with Sports Extra. But if you're in the same shoes I was in several years ago, living too far from most games, the best package to get ALL of Tech's games is YouTubeTV.
Free Trials and Discounts
As of this writing (mid August), here are the offers you can access to watch Tech games:
| | | |
| --- | --- | --- |
| Platform | Free Trial? (length) | Other deal? |
| SlingTV | NO | Half off first month |
| YouTubeTV | Yes (14 day) | $10/off first three months |
| Hulu Live | Yes (7 day) | |
| FuboTV | Yes (7 day) | |
| DirecTV Stream | Yes (5 day) | |
In theory, there are other ways to get games, too… ahoy, mateys!
But if you're an above the board, by the book sort of fan who… still doesn't want to pay hundreds of dollars for streaming services, bookmark this page and get ready to create a bunch of burner emails for free trials!