Here's everything you need to know about Louisiana Tech's matchup with SMU on Saturday:
📅: Saturday, September 2nd
🕗: 11:00 am CT
🏟️: Gerald J Ford Stadium (Dallas, TX)
📺: ESPNU
📻: KXKZ 107.5 FM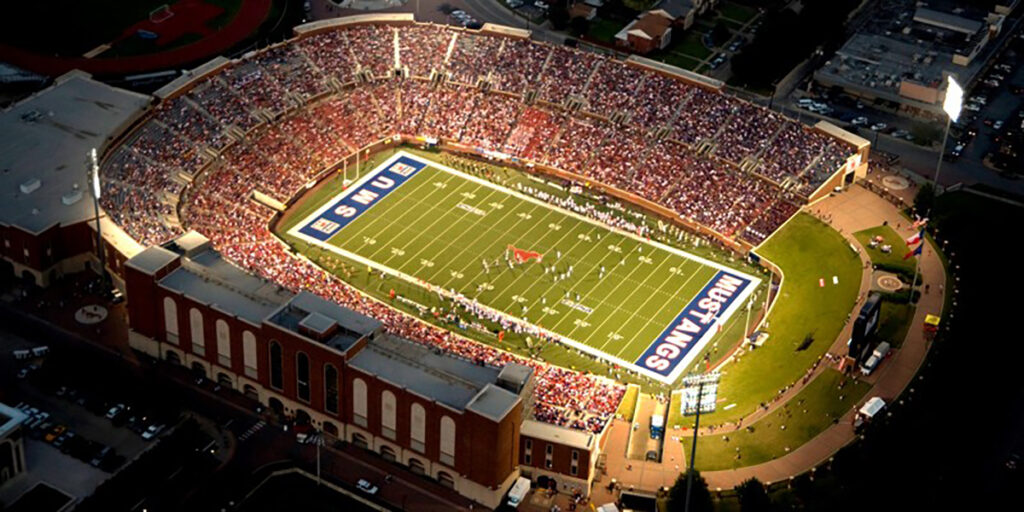 This will only be the seventh time Tech and SMU have met, despite both geographic proximity and their respective long football histories.
The Bulldogs are 4-2 all time against the Mustangs, including the 51-10 Tech victory in the 2017 Frisco Bowl. In fact, every game Tech has won has been by at least 30 points. Meanwhile the two SMU wins were by three or fewer. 
Unlike Tech, the Mustangs didn't have a Week 0 game, so for both the offense and defense previews, we'll need to start with the 2022 SMU teams.
The 2022 Mustangs ranked in the Top 10 in college football in both yards per game and points per game. All those yards and points were mostly earned by the passing game, where the SMU offense also ranked in the Top 10 in FBS.
But last year's QB Tanner Mordecai is gone, leaving behind QB Preston Stone. Stone has looked promising when he's relieved Mordecai the past two seasons, but he'll make his first start Saturday against the Bulldogs.
The running game was quite as impressive in 2022, but hopes are high in Dallas as their leading back returns and the team added Miami transfer Jaylan Knighton.
Last time Tech faced SMU, Sonny Dykes was coaching the Mustangs. Tech fans know from experience that Dykes' teams often involve flashy offenses and very poor defenses.
Well, Dykes left to head all the way across the metroplex to TCU leaving Rhett Lashlee in charge of the program. But you could have convinced me this was still a Sonny Dykes team.
In 2022, SMU was in the Bottom 25 of college football in yards per game and points per game. And the Mustangs were especially bad against the run, allowing the 10th most yards per carry in college football with 5.3. That's not quite as bad as Tech's 2022 run defense, but that's not the point of this column.
This defense returns a lot of production, and if the transfers Lashlee contribute the way they're expected to, the SMU D should be much improved.
Massey Ratings
12% chance to win, 41-20 SMU
ESPN FPI
13% chance to win
Vegas
SMU is favored by 20, with an over/under of 66.5. So about a 43-23 Mustang win is expected.
Matt (@DenizenMatt): SMU 42 – Tech 24
Evan (@EvanRSpencer): SMU 41 – Tech 27
Nathan (@ntruppel): SMU 35 – Tech 34
Daniel (@Manielthe Daniel): SMU 41- Tech 28
Courtney (@scientistcourt): SMU 45 – Tech 34