A look at what just happened against FIU in Louisiana Tech's 2023 season opener:
The start of the season opener went about as poorly as you could imagine. Three plays into the game, FIU's Shomari Lawrence took a hand-off up the middle and simply wasn't touched until he reached the endzone.
And even then, he was only touched by his teammates celebrating with him.
Tech needed an immediate response from the new QB, but Hank Bachmeier struggled early with overthrows and poor decisions, resulting in an interception on the Bulldog's second drive.
That INT set up another FIU touchdown drive, also helped by a couple penalties from the Tech defense: a late hit out of bounds and a desperation pass interference in the end zone. 
So eight minutes into the game, FIU was averaging 9.9 yards per play and Tech was down 14-0.
Tech RB Charvis Thornton was the few bright spots early for the Bulldogs, rushing for 49 yards on seven carries in the first quarter. A couple big runs put Tech in field goal range, but a false start coupled with some questionable play-calling (drawing up run plays on 2nd & 14 and 3rd & 14) forced Tech to try for the three point score. After a block, offsides penalty, and re-kick, Tech was finally on the board 14-3.
The Panthers got those three points right back after they just ran the ball down the Bulldogs' throat. Six rushes for 49 yards set up a 45 yard field goal and again FIU led by two touchdowns: 17-3.
But this would be the last time the Panther offense showed any signs of life. The next five offensive drives for FIU ended as three-and-outs.
So Tech had ample opportunity to take back control of the game, but the Bulldog offense was never able to fully figure themselves out.
A sustained drive ends in a Jacob Barnes doinked field goal attempt, but the next drive is a one-play 64 yard catch-and-run by Smoke Harris to make it a one score game – 17-10. And a field goal on the two minute drill before the half made it 17-13.
But all that offensive momentum from Tech just disappeared in the second half. There's a fumble, a three-and-out, and a drive that's killed by a bobbled snap busted play. At the end of the third, the score remained 17-13.
While the FIU offense continued to struggle, Barnes hits a 46-yarder to make it 17-16, but misses a 43 yard attempt to prevent Tech from taking the lead.
Some huge run stops on the subsequent FIU drive gave Bachmeier and the Tech offense one last try to take the lead late in the fourth quarter.
A couple of short passes and an incompletion set up a 4th & 5 with the game on the line. Hank Bachmeier found Cyrus Allen on a slant route to move the chains and keep Tech's hopes alive.
Then there was a catch by Jacob Fields who shed a tackle to advance the ball to the FIU 32. Two plays later Fields takes a handoff 30 yards to the endzone for Tech's first touchdown since the since quarter. Just like the FIU run that opened up the game, Fields wasn't touched.
There was still time on the clock – 61 seconds – more than enough for Tech fans to be nervous. Two plays later Grayson James completed his sixth pass of the night, but it was to Tech's Cecil Singleton. Two kneel downs later and this one was over.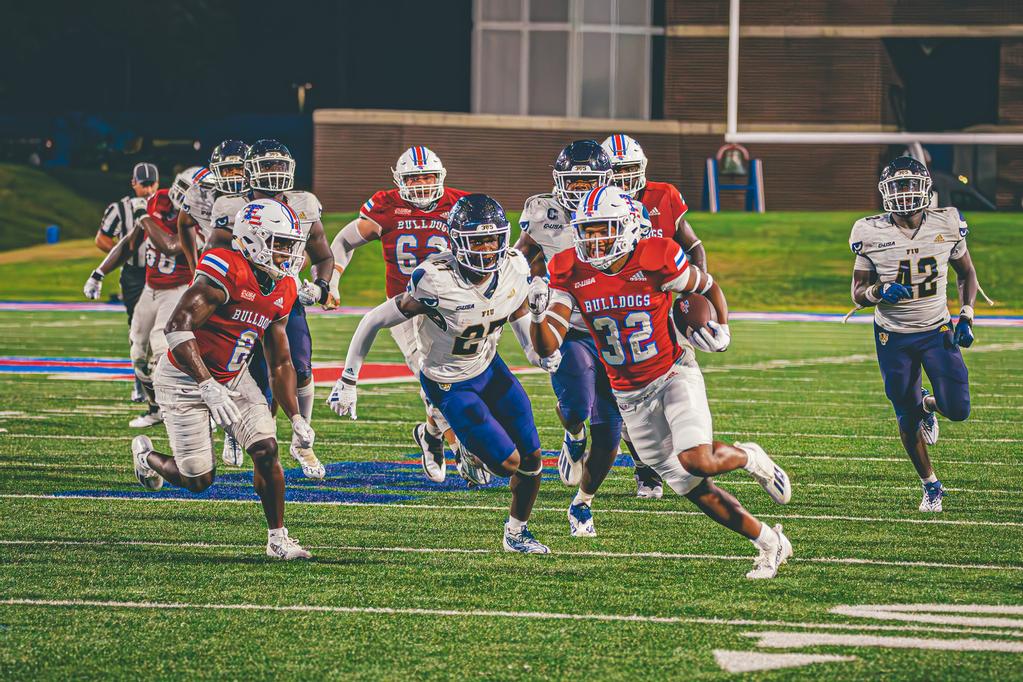 The defense. After giving up scores on three of the first four drives, the Tech D only gave up one first down for the rest of the game. 
Going 3-for-5 on field goals isn't a great start to Jacob Barnes' redshirt junior campaign. 
Drive finishing. The Bulldogs had seven drives take an offensive snap inside FIU's 40 yard line, but only scored 15 points on those drives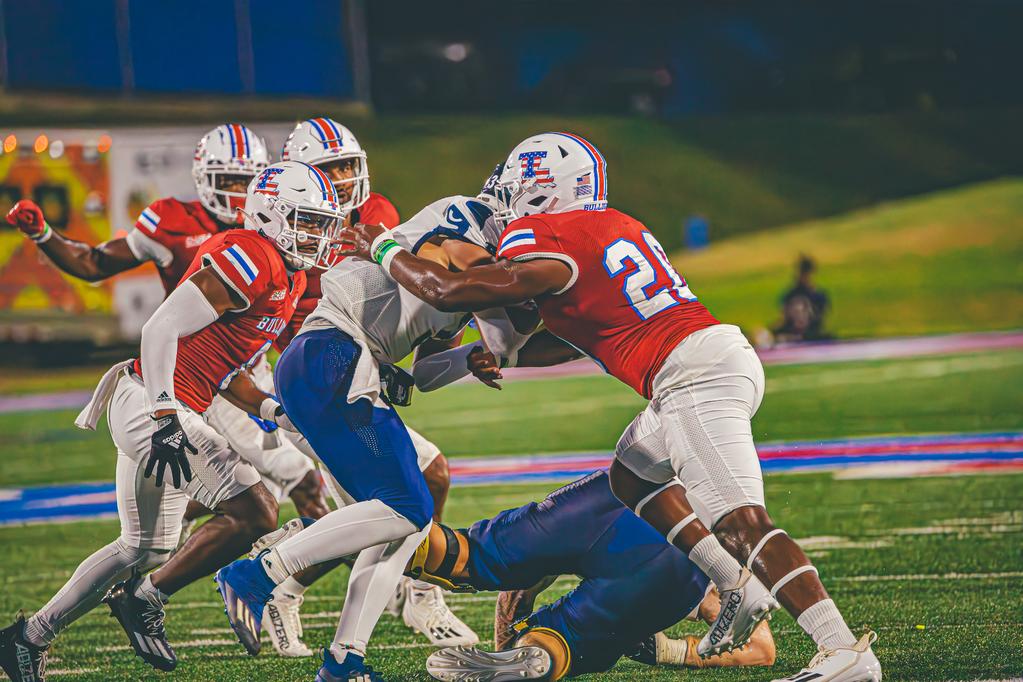 After getting some first game jitters out of the way in the first quarter, Scott Power's defense was masterful. Hank Bachmeier showed that he's got what it takes to work through the progression and take what the defense is allowing. There's a lot of room for improvement, but we got the W – and that's what matters.
It is good to escape Week 0 with a win, but it is bad that it looked more difficult than it should have. It is good to win in a gutsy comeback fashion, but it is bad that we were even in that situation. It is hard to tell if there were improvements on both sides of the ball or if FIU is just as inept as they were supposed to be. Maybe we'll learn more against SMU.
Refer the first three sentences of my "final prediction" in the season preview
That was technically a football game and technically a win, but man am i mad about it.
There is a lot that needs to happen for this Tech team to live up to the expectations we have for them. Was this win pretty? No, but it was a win. Let's see how things improve between weeks before we start abandoning ship
Want to read more about Tech's Week 0 win over FIU, check out BleedTechBlue's recap post here!
Next Game: Tech will face off against SMU next Saturday at 11:00 am CT, televised on ESPNU.
Oh, and the betting line is already in, so go fill out the gtpdd Contest before you forget!