A look at what just happened against SMU in Louisiana Tech's first road game in 2023:
The Mustangs started the first quarter a little rusty, failing to convert each of their first three third-downs faced. The teams spent the first eight minutes of the game trading punts until Tech was able to put together a drive good enough to just barely enter field goal range. Tech long-field-goal specialist Buck Buchanan had the distance, but not the accuracy. And with 4:28 left in the first quarter, the score remained tied at zero.
Eleven seconds later, it was 7-0 SMU.
Forty-one seconds after that, it was 14-0 Mustangs.
The first score was a deep shot to Joran Hudson over Tech's Cedric Woods. Hudson and Woods were fighting for positioning, Woods fell to the ground, and Hudson was able to complete the catch and take the ball into the endzone. Defensive pass interference was called on Woods, although the ESPNU commentators were quick to point out that Hudson had extended his arms to create separation, and that the penalty should have been on SMU for offensive pass interference.
But the second of the quick scores can't at all be blamed on officiating.
On second down, the pass rush gets to Bachmeier, who tries to get a pass rush before the defense collapses on him. But 6'3 286-pound Kori Roberson got his hands up in time to bat the ball to himself, and take it with him 16 yards to the goal line to complete the big boy pick six.
Tech only picks up two more first downs for the rest of the half (one of which was due to a penalty), meanwhile SMU goes field goal, touchdown, punt, touchdown to close out the half up 31-0.
The Bulldogs open up the second half with a couple big plays. A 22-yard pass to Smoke Harris starts the drive that ends with a 53-yard catch-and-run by Koby Duru on a slant route to end the shutout.
The next two Mustang drives end in missed field goals, but Tech isn't able to make up any ground and at the end of the third quarter, it's still 31-7.
The start of the fourth quarter has Tech fail to convert a 4th & 4 near midfield, then SMU fail to convert a 4th and short knocking on the red zone, then the Bulldogs fail to convert on another 4th down near midfield.
Finally, SMU is able to convert a fourth down on their next drive (in fact, they convert two!) on their way to endzone to make it a 38-7 game with 2:32 left.
Hank Bachmeier again showed his ability to move the offense when in the two minute drill, as the Bulldogs used most of the remaining clock to double their score and make it 38-14, which ends as the final.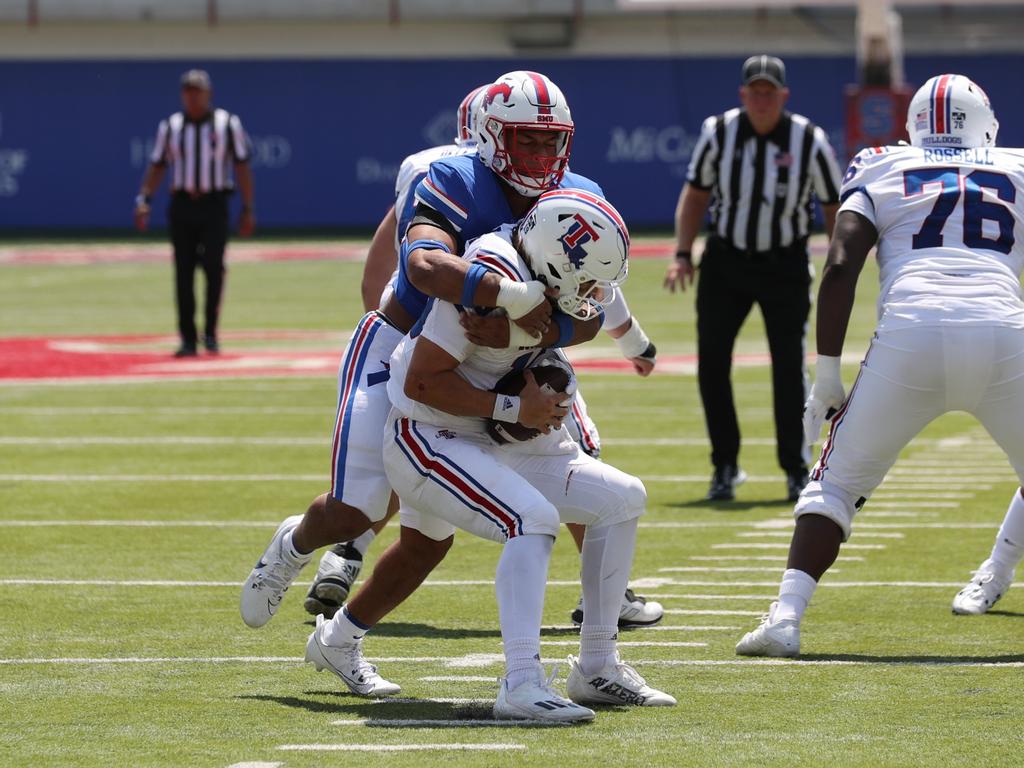 Offensive explosiveness. Big, chunk plays are one of the few things working for the Bulldogs. Their 1.75 equivalent points per play was a Top 10 performance in Week 1.
Offensive efficiency. Tech only had a "successful" play on 26% of their snaps. That was a Bottom 10 performance in Week 1
Basically everything else (including the weather), but I'll list sacks here. Six given up on the night. Tech is currently the 9th worst team in FBS at protecting the QB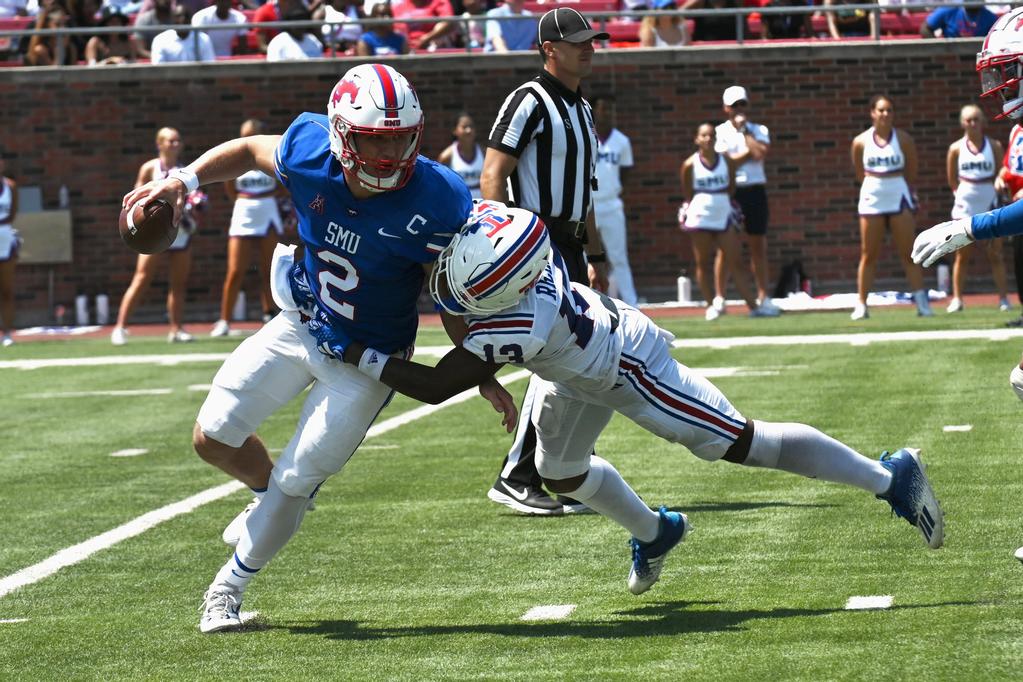 When Daniel offers you a second coat of sunscreen before he leaves the game, always take it. Also, I wasn't expecting a Tech win in Highland Park… but I was expecting our offense to perform slightly better with a week under its belt. Moving forward there are large concerns with rhythm, playcalling, and our ability to push the ball down field.
Good teams don't make mistakes like the Dogs did when they had 12 men on the field after the defense forced SMU to punt from deep in their territory. Good teams don't bungle 2 minute drills as badly as Tech did at the end of the first half and still allow a dagger of a long touchdown drive afterwards
I refuse to focus on anything other than the punting. 44 yards per punt is incredible enough, but also the first punt was a 57 yards! Of course,  it didn't matter in this game. But in future close ones, field position will be important. And Blake Ochsendorf can flip a field.
Want to read more about Tech's Week 1 loss to SMU, check out BleedTechBlue's recap post here.
Next Game: Tech returns home next Saturday at 6:00 apm CT to face old foe Northwestern State. The game will be streamed on ESPN+.
Oh, and the betting line is already in, so go fill out the gtpdd Contest before you forget!