Tomorrow night at 6:00 pm, Tech returns to action against the uMass Minutemen. But before you watch the game, you need to know some stuff. That's where we come in!
How to Watch
Like the last game against Rice, this game is also on ESPN3, which can be obtained by having access to any standard ESPN subscription. Just get one of these services:
(Youtube TV, Hulu Live TV, Sling orange, and PSVue all have free trials)
Other People's Predictions
ESPN FPI: Tech has a 97.1% chance to win
Massey: Tech has a 96% chance to win
Vegas (OddsShark): Tech wins by 31
SP+: Tech wins, 42-20
BleedTechBlue: Tech wins, 34-23
NCAA 14 Simulation: Tech wins, 23-20 (OT)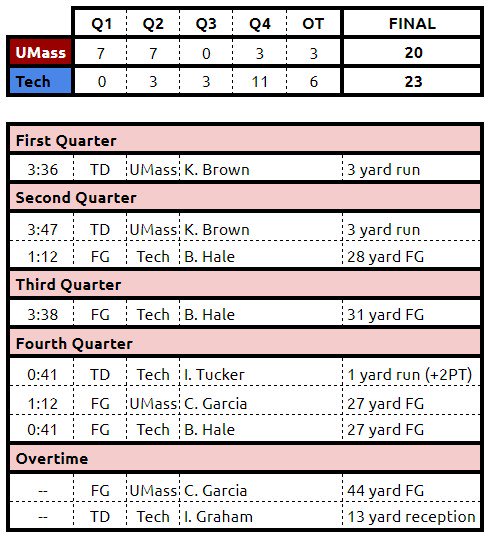 What to Watch For
Evan: Honestly? The reason to watch this game is to finally see Tech's offense rolling on all cylinders. uMass is having a really bad year defensively. They're allowing their opponents to rack up 529 yards and 46 points per game! And every single team they've played is worse than Tech! If there was ever a week to see the Dogs back in their 2012, 2014, and 2016 ways, this is it. Watch for that, if nothing else.
Josh: We missed this on the podcast, but keep your eyes peeled for potential first team all-name player George Georgopoulos, who punts for the Minutemen (h/t to @latechsportsrpt on twitter).
Hot Taeks
Evan: uMass is so bad that Paul Revere's not even bothering to tell us they're coming!
Nathan: They're called the Minutemen because the only time they aren't losing is within the first minute of the game.
Daniel S: We will finally have a kick go for a touch back.
Josh: Aaron Allen throws for more TDs than J'Mar.
A Random uMass fan: Viewer discretion is advised. Please keep children out of the room due to the merciless brutal beating that will take place.
Interesting Tidbit
Josh mentioned uMass's punter earlier, George Georgopoulos. He's a sophomore from Greenville, South Carolina. Coming out of high school, the South Carolina Gamecocks offered him a preferred walk-on, but uMass gave him a full ride, so he left his childhood dream behind and headed north.
But why am I using the interesting tidbit section to talk about uMass's punter? Well, George Georgopoulos is the kind of name that jumps out when we do our cursory glance at the opponent's roster rigorous scouting. It's funny, it's cool, and most of all, it's Greek af.
So what's with the last name "Georgopoulous," anyway?
Well, in Greek naming tradition, the suffix "opoulous" is a patronymic identifier common to the Peloponnese area. "Patronymic" means that it's like Scandinavian naming, where a person named Leif whose father was Erik would be named Leif Erikson (Happy belated Leif Erikson Day to all my part-Norwegian brethren).
In Greek culture, last names were either based on occupations (ex: Mylonas=Miller),  personality or physical traits (ex: Spanos=beardless), or on their father's first name (ex: Georgopoulos=son of George). Of course, this got super complicated, because originally last names would change with every generation. So an Anagnostos's (assistant priest) children would be called Anagnostopoulos. (Yes, Orthodox priests are allowed to have kids.)
Eventually, changing names every generation got too complex, and names stuck. So uMass's George Georgopoulos most likely isn't named that because his father's name is literally George, but because somewhere down the line in his family, someone's name was George.
Oh, and George Georgopoulos can also do this:
98 yard punt at camp 💸 pic.twitter.com/cXbpsbR7Y3

— George Georgopoulos (@georgeg939) July 29, 2018
If this were Ancient Greece, his kid's last name would be Kaloláktismopoulos! (Child of good kick man)
Final Predictions
Nathan: It would be very #onbrand for me to pick UMass in an upset, but I just can't see that happening. Tech should win by more than 31, but we just love to give up late scores.
Tech wins 44-24
Evan: Last year, I looked up how Tech performed coming out of the bye week under Skip. I'm not going to look it up again, but the trend wasn't great. I want to say we were 1-5 outright. Who even knows against the spread… But with that being said, Tech is going to take care of business in this one. Trends be damned!
Tech wins, 52-17
Josh: Man, I really have no idea what to expect from this game except a win. But what kind of win? A close one? A blowout? Who knows. While I'm confident in a win, I don't think it'll be quite as brutal as the beating FIU gave to the Minutemen last week. Current Tech teams don't shut out teams, let alone run up the score that much (unless it's a bowl game, sorry SMU). I'm still leaning towards a blowout as long as the team stays focused.
Tech wins, 52-21 (or whatever I said on the gtpdd podcast)
Daniel S: This game is not going to be close no matter what the NCAA simulation says. Tech will come out strong and take care of business at home. Look for a blowout win and an opportunity to break out those sick Les Guice Gifs.
Tech wins: 45-17