The 2020 season has sure been a roller coaster so far. From the Baylor game cancellation (and rescheduling (and re-cancellation)), to the one-point win at Southern Miss, to the shootout against Houston Baptist, to the pantsing at BYU, to the ugliness against UTEP, Tech has played in just about every type of football game you could imagine.
So what will it be this week?
How to Watch
Contrary to the below chart (that I'm far too lazy to update), Tech will take on the Roadrunners at 7:00 pm central, on ESPNU.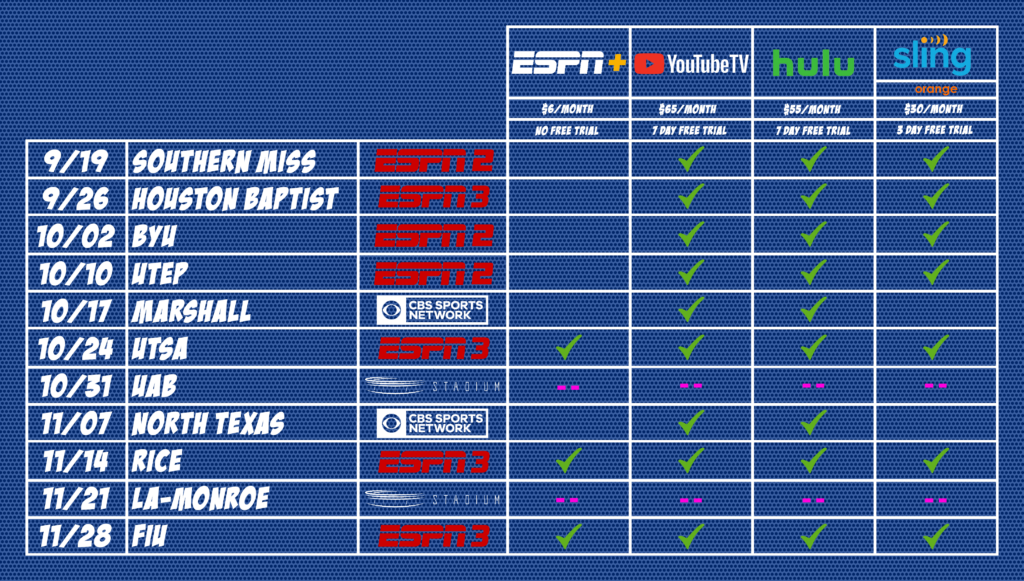 Other People's Predictions
ESPN FPI: Tech has a 53.2% chance to win
Massey: Tech has a 51% chance to win, final score Tech 28-27
Vegas: Tech wins by 1.5
SP+: Tech has a 55% chance to win, 31-29 final
BleedTechBlue: Tech wins 27-23
NCAA14 Simulation: UTSA wins 14-9
Contest Reminder
The return of football brings the return of the gtpdd Contest! For the unfamiliar, it's a group of questions that tests your knowledge of the team and opponents, as well as your ability to predict the unpredictable.
Click here to do this week's contest!
What to Watch For
Evan: To me, the main key to this game (outside of the offensive line looking… competent? Hell, I'd even take "needs improvement" over what we've seen lately) is going to come on the early downs. SP+, our favorite fAnCy StAt, likes to break plays down into "standard" and "passing" downs.
A "passing down" is:
2nd and 8+ yards to go
3rd and 5+ yards to go
4th and 5+ yards to go
From there, SP+ computes a team's "success rate." This number is based on whether or not the offense picks up 50% of the yards to go on 1st, 70% on 2nd, and 100% on 3rd/4th down. Basically, this is to let us stat nerds know how likely it is for the offense to put themselves in a better position on a given play.
So far this year, Tech's success rate on Standard downs (aka NOT passing downs) is 46.4%. Pretty good! But on passing downs, that number drops down to 29.8%, which is NOT pretty good!
Last week, Tech failed to convert on 90% of our third down attempts, largely because we fell behind the sticks and ended up in third and 16, 22, 12, 8, you get the point.
If Tech wants to win tomorrow, we need to have success on the early downs to keep ourselves in "standard" down territory. We just can't afford to be in obvious passing situations. Having a running game that nets more than 7 total yards would certainly help in that regard, too.
Why you should Hate UTSA
Nathan: Because they hate us.
I've talked to a few UTSA fans this week, and while nobody considers Tech-UTSA to be the biggest rivalry, the Roadrunners have been jealous of our success over the past few years.
And jealousy leads to anger, and anger leads to hate.
(If JJ Abrams is allowed to mess up Star Wars movies, I should be allowed to mess up Star Wars quotes)
They hate us because they ain't us. So why not return the favor? (Except for the wishing we were them part.)
Hot Taek
Evan: Tech won't allow a single sack. If I believe it, it will come to be.
Nathan: Tech will allow a single sack. But only one.
Matt: We suk.
Final Prediction
Evan: Sheesh, what a three week period we've had. It's been a looooong while since we've seen Tech put up any sustained success on offense, so it's hard to say what will happen tomorrow night in San Antonio. But with the return of Antawn Lewis comes the return of my…. Confidence??? that we can block people, or at least provide a 1.5 second cushion for Luke Anthony to throw the football on occasion. With that being said, I can't see us being as good as I think we can be on that side of the ball. Luckily, the defense has been pretty good and has looked better as the season has progressed. I think we'll win an ugly one:
Tech wins, 23-17
Nathan: Yeah, I also think this will be a close, ugly game. But Tech beat UTEP in an ugly game. And Southern Miss in a close game. Even after all of the struggles on the offensive line, Tech is still 3-2.
I refuse to believe the offensive line can play any worse, which only means they'll play better tomorrow night.
Tech wins, 28-27