How To Watch
Today's game will be played at Joe Aillet Stadium in Ruston, LA at 6:00 pm CT. It will be broadcast on ESPN3. Not to be confused with ESPN+, ESPN3 (also known as WatchESPN) is provided with most cable, satellite, or cable-alternative streaming services (like YouTube TV, Hulu Live TV, etc).
Click here for the direct link to the online stream.
Series History
Louisiana Tech is 4-1 all-time against the Lumberjacks, but nearly every game between these programs has been close. The two teams met three times in the 1950s (with Tech winning all three), once in 1990, and for the final time (until this year) in 2000.
On September 16, 2000, Stephen F Austin was down 24-17 with three minutes left in the game. After 17 plays (including 3 fourth down conversions), the Lumberjacks found the endzone and forced Tech to play the first overtime game in Bulldog history.
The teams traded touchdowns in the first overtime, but in the second period, future NFL-er freshman Josh Scobee missed a 39-yard field goal. But SFA's freshman kicker didn't miss his 32-yard attempt, sending the Lumberjacks back to Nacogdoches as the victors.
SFA's Offense
On both sides of the ball, Stephen F Austin appears to be a shell of their former self. Trae Self, the QB, was the 19th most accurate passer in FCS a year ago, but his 63.4% completion percentage has fallen to 54.2% so far across the first two games.
Part of that dip may be due to Alcorn State shutting down star receiver Xavier Gibson. No other target stands out on this team, so look for Tech to try to keep him out of the game as well.
SFA's Defense
The Lumberjack defense took an even larger step back, in part because of Tech's raid of their coaching staff and secondary. Defensive Coordinator Scott Power, DB Myles Brooks, and DB Willie Roberts all arrived on Stephen F Austin's campus in 2019 and left this offseason for Louisiana Tech. If I'm one of the remaining Lumberjacks on that roster, I have this game scheduled on my calendar.
The run defense is the biggest surprise for SFA this year, however. After allowing only 3.2 yards per carry a year ago, the Lumberjacks gave up 6.2 yards per carry in the opener against Jacksonville State and 7.8 yards per rush attempt against Alcorn State.
Tech struggled to run the ball against Missouri. They should not have that issue this week.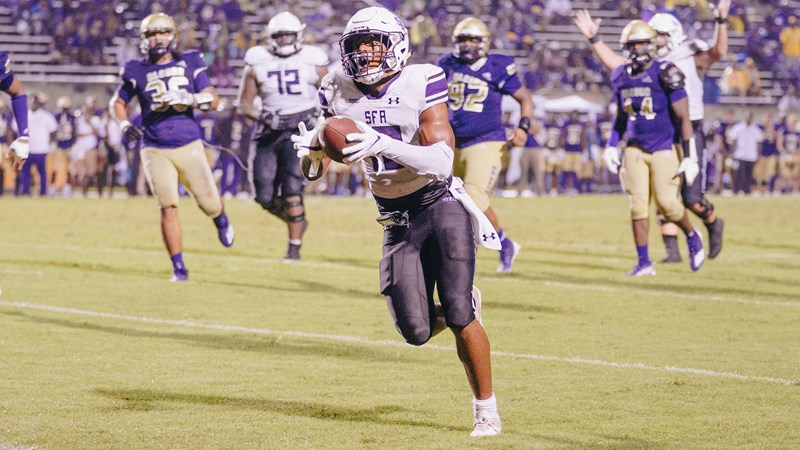 Other People's Predictions
Massey Ratings: 75% chance to win, 35-23 final score predicted
ESPN FPI: 97% chance to win
Vegas: N/A
Our Predictions
Matt (@DenizenMatt): 35-17 Tech
Josh (@iamjoshfarrar): 35-24 Tech
Evan (@EvanRSpencer): 55-21 Tech
Nathan (@ntruppel): 42-14 Tech