A look at what just happened on Friday night for Louisiana Tech against UTEP:
This late game started off just about as well as one could have hoped.
An 85-yard pass from Jack Turner to Cyrus Allen set up a Tyre Shelton one-yard rush for the score. Then after a UTEP three-and-out, Smoke Harris returned the subsequent punt 67 yards for a touchdown. Three and a half minutes into the game and Tech was already up 14-0.
The Bulldog defense forces a second three-and-out, but Tech is forced to punt themselves after a run on 3rd & 10 fails to get to the sticks. And even though the Ochsendorf punt pinned UTEP within their own 10 yard-line, a couple of 20+ yard runs allowed the Miners to reach the red zone. And after Willie Roberts bailed out UTEP with a pass interference on 4th down, the lead was cut in half, 14-7 seconds into the second quarter.
Neither offense was able to get anything going for a bit until Tech was able to use four plays of over ten yards to get into field goal range. But a sack forced the Bulldogs to settle for three points.
UTEP punted again, but Tech didn't have enough time on the clock to score before the buzzer and Tech went into intermission up 17-7.
A couple of big runs put the Miners in field goal range, where a 36-yarder was able to make it a one-score game again, 17-10 Bulldogs.
After the teams traded punts (again), then Tech added their last points of the game thanks in part to some timely UTEP penalties. A facemask call on the first 3rd down sack kept the drive alive to set up an unsportsmanlike penalty that changed a 4th & 24 into a 1st & 10 in the red zone. Then Tru Edwards completed a basket catch in the corner of the endzone for six.
UTEP reached midfield on the following drive but chose to punt on 4th & 9. Soon after a Jack Turner sack/fumble nearly gave the Miners the ball deep in Tech territory, but fortunately Dakota White was able to jump on the loose ball.
Tech punted, but the defense was able to make a fourth down stop that effectively ended the game. And Tech completed their first road win since 2020 with a 24-10 victory.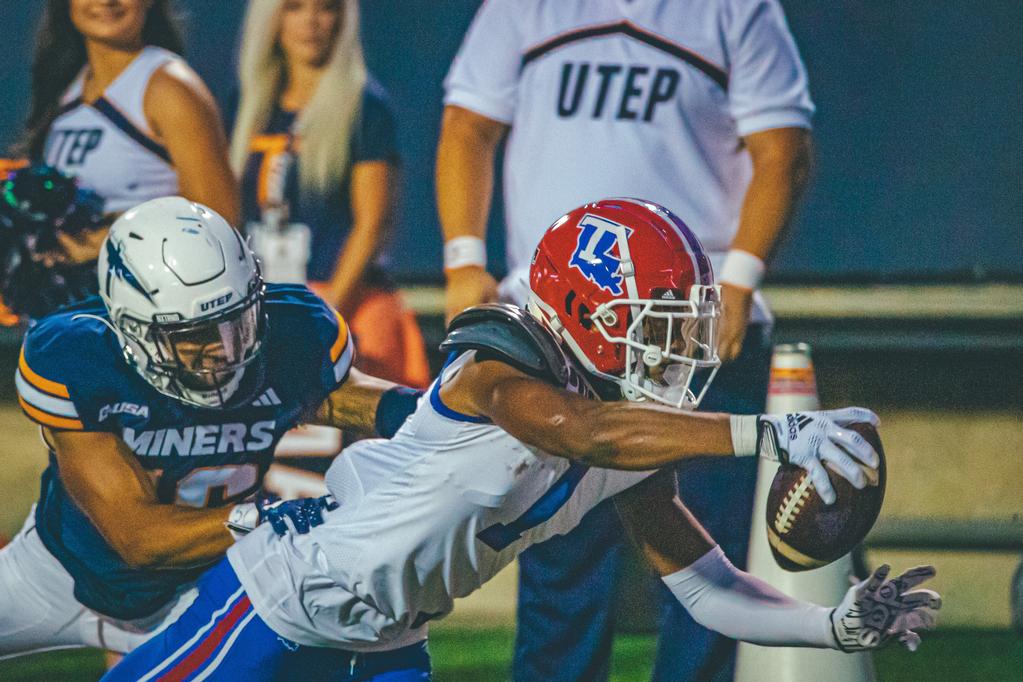 You have to shout out the punter when he averages 55 yards per punt and has one go for 66 yards. Blake Ochsendorf was able to consistently flip the field.
Yes, Tech outscored the Miners by 14 points. But UTEP outgained the Bulldogs by 27 yards. That doesn't exactly inspire confidence moving forward.
Brevin Randle's post-play stomp on a UTEP player's neck may not have been penalized at the time, but it did earn him an "indefinite" suspension
An ugly win is still a win. We'll absolutely take it
Gotta take the wins where we can get them.
I'm not thrilled for the rest of the season.
That was an exciting start to a boring game. But it was a boring game that ended with a win.
Paydirt Pete? More like Play(like)dirt Pete
Want to read more about Tech's late night win in El Paso? Check out BleedTechBlue's recap post here.
Next Game: Tech returns home to face Western Kentucky on Friday night at 7pm CT. The game will be broadcast on the ESPNU.
Oh, and the betting line is already in, so go fill out the gtpdd Contest before you forget!