Post-Game Reaction
Josh: Disappointment, sadness, grief, anger, etc.
Evan: In a given football game, the announcers come in having done a little bit of research on the two teams so that they know what storylines to highlight, which players to focus on, and frankly, what to talk about in a 3.5 hour block of television. On Friday night, Dave Flemming and Andre Ware tested out a few in the early goings: Scheduling being weird, Tech's COVID issues, and BYU's quarterback showing flashes of NFL potential.
Over the course of the game, pretty much every other talking point fell by the wayside as the production team realized they'd hit gold with that last take. Zach Wilson, BYU's QB, was sensational in this game. He made throws that would've been completed even if Tech was blanketing receivers in perfect coverage! Granted, we weren't doing that and receivers usually had a 5 yard cushion…
If I was a fan of any other team, it would've been fun to watch him slice and dice, doing just about every single thing imaginable to the Tech defense. But I'm not a fan of any other team, I'm a fan of Tech. So it was frustrating as hell. In a game where Tech was out-physicaled, outplayed, and outcoached, it didn't really matter because Wilson played well enough to beat us no matter what.
Nathan: Honestly, I was just exhausted by the end of this game. It was fun early, but BYU had it in hand by halftime. So the second half just wasn't fun to watch.
Did Tech Die
Josh: Tech died at approximately 2:26 in the first quarter. Funeral arrangements have been made. You can listen to the wake on the gtpdd podcast.
Evan: Weirdly, this one's almost a situation where Tech did go, but also died. Normally in bad loss situations, they do not go and also die. This time, they went to Utah… they just wanted to take in the sights of the mountains before they rolled over and died. 
Nathan: Tech was murdered by three very large defensive linemen.
Moment of the Game
Josh: The Smoke Harris TD in the first. The only good thing to come from that game.
Evan: Since Josh took the obvious one, I'll go with another first quarter moment. Tech was tied 7-7, and the offense had looked really great so far. At this point, I'm thinking "The defense just needs to make a few stops, and we are IN this game!" Then, Tyler Grubbs comes up with a HUGE fourth down stop. Watch this: he reads exactly what the offense is doing and just goes and gets the ball carrier. Wilson didn't even have time to cleanly take the snap! It was shades of Polamalu. Great stuff from Grubbs.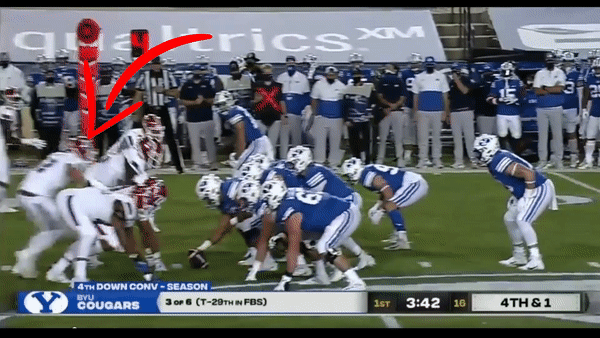 Nathan: Yeah, I know Josh took it, but I don't know how you can't give it to the Smoke catch and run.
Tech Record Predictor