Post-Game Reaction
Nathan: Wow. It is now two days later, and I still have no idea how Griffin Hebert came down with that catch.
But more happened in this game. Watching message boards flip back and forth between "Why is Luke Anthony coming into the game?" to "I hope we don't see Luke Anthony again" to "Okay, Aaron Allen is making some mistakes" to "Why are we taking out Luke Anthony?" to "Luke Anthony is a god" was pretty hilarious in retrospect.
Tech also got burned by Southern Miss WR Tim Jones, and that's what I'm most afraid of going into this week: containing receivers.
Evan: WOOOOOOOOOOOOOOOOOOOOOOOOOOOOOOOOOOOOOOOOOOO!!!!!!
Other than that, here are a couple of thoughts about the game: In a year where your first game was already going to be weird, add in the fact that Tech's only practices for like, what, two whole weeks (!) were two shoulder pads only, no tackling practices on Wednesday and Thursday of game week, and you've got a recipe for a huge loss. And to be honest, at the halfway mark of the third quarter I certainly thought that's where we were headed. I was getting ready to make excuses for the team, about how we had to start several true freshmen on defense, about how we just weren't in game shape yet for totally understandable reasons.
And yet… by the end of the fourth I was Furiously Pacing My Living Room™, begging Tech to beat USM. And boy did they. With the college football world watching, Griffin Hebert's leg shape-shifted and somehow stayed in that endzone. What a game. Football's BACK!
Josh: WOOOOOOOOOOOOOOOOOOOOOOOOOOOOOOOOOOOOOOOOOOOOO
WOOOOOOOOOOOOOOOOOOOOOOOOOOOOOOOOOOOOOOOOOOOOOOOOO
Man what a win that was. It was definitely the first game for the Dawgs when you look at all the little mistakes here and there. But man does it feel good to get away with a win like that! Anthony has got to be QB1 after that performance, but I can see Skip giving Allen plenty of playing time still. The run game is solid and as long as that continues, we'll be fine. Also, the absolute speed by Smoke Harris on his TD catch! Dude was flying!
Did Tech Die
Nathan: No, but according to my Fitbit heart monitor, I did for several seconds late on Saturday night.
Evan: Basically if Griffin Hebert's feet were two sizes bigger, we would have died!
Josh: I am of the notion that Tech did in fact die, but was resurrected with some dark magic. Zombie Bulldogs are now in the equation.
Moment of the Game
Nathan: Griffin Hebert's touchdown catch, duh.
Evan: Outside of the obvious, I'll highlight one that may fly under the radar due to what came immediately afterwards: Eric Kendzior's HUGE sack in the redzone on third down, which forced USM to take a field goal and only a 6 point lead. If Abraham gets that throw away, I bet USM goes for it. If they went for it and got it, we'd have been down by ten. If they went for it and didn't get it, Skip would've played for OT and gone for a field goal. This sack created the perfect storm for Griffin Hebert's left foot to become the favorite foot of Loyal Blue Nation.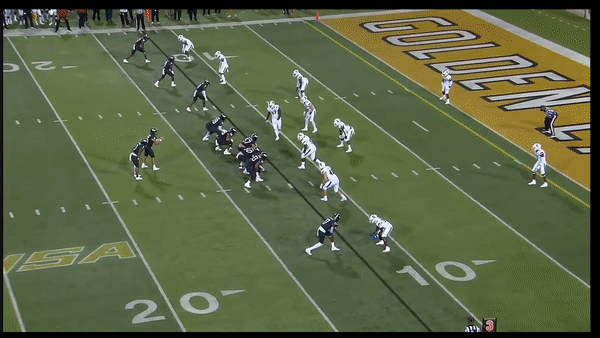 Josh: Hebert catch for sure, but I'm going to also nominate Greg Garner's 24 yard run. That was the moment I felt like Tech was going to pull off the comeback.
Tech Record Predictor