Post-Game Reaction
Evan: In the beginning of the game, UTEP had a deep bomb touchdown… which was promptly called back for delay of game. That play had a little bit of everything you need to know about this game: 1) UTEP trying deep passes, and ultimately being unsuccessful. 2) The refs being pretty bad at their jobs. 3) Tech's offensive line being totally uninvolved in the play. Those three things pretty much sum up the entire game for me.
Josh: Man, yuck. What a more nerve wracking game than it needed to be. Those UTEP deep  bombs were scary and I was sure they were going to connect on at least one of them, but thankfully they didn't. Need the OL to get healthy and shore up because I don't want to see a QB die back there. Also, I guess we're back to the QB carousel? Great. But like they say, win your clunkers.
Nathan: I still don't believe we won that game. Sure the refs were garbage, and we were missing a large part of our offensive line, but Tech was just plain not good. And with the heart of our schedule coming up, it's not the greatest timing.
Did Tech Die
Evan: This is a tough one. I'll say the defense kept Tech on life support in this game.
Josh: Tech did not die. Try as they might. 
Nathan: In order to die, one must first live. I don't believe Tech was alive tonight.
Moment of the Game
Evan: The fourth quarter has just started, and Tech is only up 14-10 on UTEP. It's 3rd and 16, and Tech's offensive line can't block for more than 0.5 seconds. What do you do? You get the ball to Adrian Hardy on a quick screen and hope for the best. And what does he do? Gains 20 yards. Tech goes on to score what will be the winning touchdown of the game, all because of Hardy.
Josh: I gotta go with the big boy PBU by Cedric Woods early on in the 4th quarter. Tech had just gone 3 and out after giving up a kickoff return TD and UTEP was driving. Felt like the game was decided right there with the stop. 
Nathan: The Smoke Sweep on fourth down. I still hate this playcall, but football is a results-oriented game, and this was probably the most successful offensive play of the night.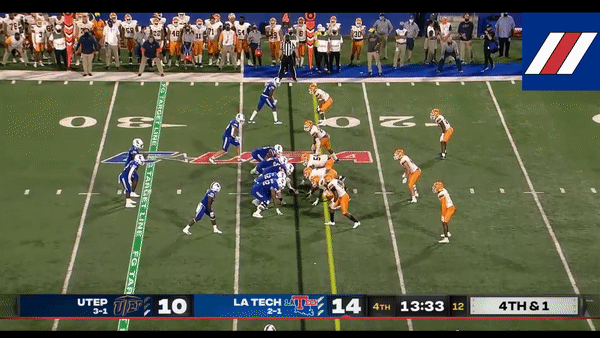 Tech Record Predictor