Have you ever found yourself wondering how Tim Rattay's 1999 Bulldogs would match up with Ryan Higgins and the 2016 Bulldogs? Do you get in fights with your friends about which Tech team* is the best of all time*? Maybe you want to know which J'Mar was the best J'Mar?
*since 1996
If you answered yes to any of the above questions – or even if you answered no – you're about to get some long awaited answers!
It turns out that there's a magical website called WhatIfSports.com that allows you to run simulations of hypothetical college football matchups. And since it's been an abnormally long offseason for us, we decided to do just that. But instead of running and rerunning simulations of 2019 Tech (with J'Mar) vs. Marshall and UAB until we got the results that totally would have happened, we decided to have some Tech on Tech action.
For this week's episode of the gtpdd Podcast (which you can find right here on gtpdd.dog, or wherever fine podcasts are sold), we set up a bracket of the best Tech teams since 1996 and ran some simulations to see what would happen. We cover most everything in the podcast, but I wanted to post the box scores here on the blog so those interested could see what happened in these totally not real games!
The Bracket
First and foremost, we decided to make a 16 team bracket because, you know, that's how brackets work. Also, as luck would have it, only 16 of the 24 Tech teams available on WhatIfSports had non-losing records. We decided not to set seeds in the interest of laziness fairness. Instead, we made the oldest teams play the newest teams as if the years themselves were the seeds. Without further adieu, here's the bracket:
So now that you know the matchups, let me remind you (and myself) that this is a fake thing, and also that bad teams beat better teams any given Saturday in real life… so that's possible in fake life too. Now, let's get to the action:
Round 1, Game 1: 1996 vs 2019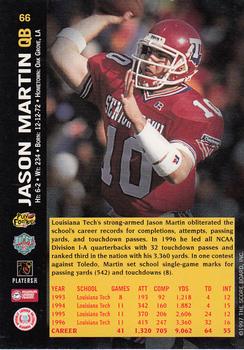 Final Score: 2019 wins, 31-30
Notables: 1996 jumped out to a 20-0 lead before Justin Henderson and Jawuan Johnson took over the game on the ground for 2019. Jason Martin's FIVE HUNDRED AND THIRTY FOUR passing yards weren't enough for '96 to hold on, as they turned the ball over 4 times.
Player of the Game: '96 QB Jason Martin (29/50, 534 yards, 4 TDs, 2 INT)
Round 1, Game 2: 1997 vs 2018
Final Score: 2018 wins, 26-23
Notables: This one was really even the whole way, with 2018 gutting out a tough win in the fourth quarter on an Israel Tucker TD and one of Bailey Hale's four made field goals. 2018 J'Mar kept pace pretty well with 1997 Tim Rattay, as well. Both passed for around 250 yards, with Rattay throwing one more TD (shout out Troy Edwards).
Player of the Game: '97 RB Bobby Ray Tell (14 carries, 138 Yards, 3 rec., 24 yards, 1 TD)
Round 1, Game 3: 1998 vs 2017
Final Score: 2017 wins, 49-46
Notables: Okay, who had 2017 scoring the most points in any of these games??? Not me, that's for damn sure. This game was the very definition of a barn burner: There were 8 lead changes and 2 ties. Tim Rattay again lit up the stat sheet in a losing effort (487 yds, 4 TDs), while J'Mar threw for 335 and 1 TD. Boston Scott was the bright point for the victorious Bulldogs with FOUR touchdown runs. John Simon ran in a score for the '98 squad with 1:57 remaining only to be outdone by the long leg of Jonathan Barnes with 0:58 left on the clock. His 45 yarder would be the difference in the game.
Player of the Game: 2017 RB Boston Scott (19 carries, 122 yards, 4 TD)
Round 1, Game 4: 1999 vs 2016
Final Score: 1999 wins, 38-36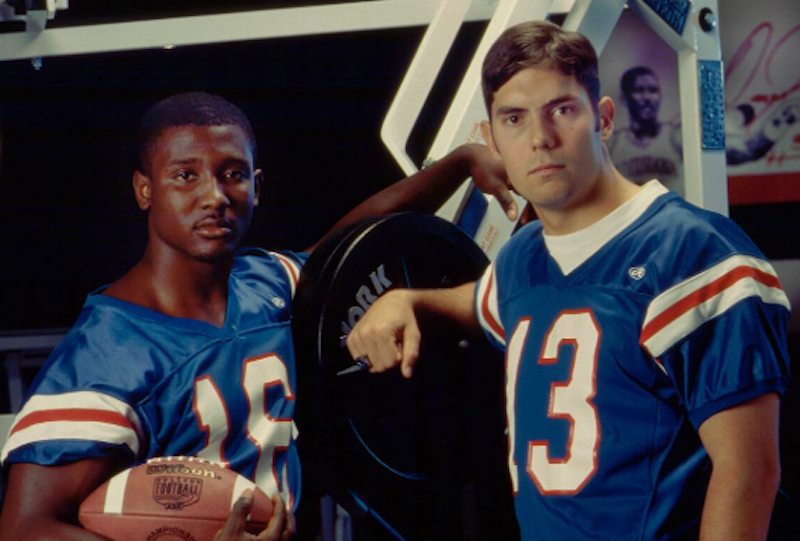 Notables: Wow! Another close game. Rattay threw for a rather pedestrian 426 yards (pedestrian for him, anyway!), with Delwyn Daigre catching 142 yards worth and hauling in two TD passes. John Simon's touchdown catch with 3:23 remaining made the score 38-29, and proved to be the difference. Kam McKnight scored for '16, but the younger Dogs couldn't recover the onside kick to keep the dreams of youth alive. 2016's balanced attack (227 rushing yards, 299 passing yards) was ultimately not enough to overcome the Rattay-Daigre connection for '99.
Player of the Game: 1999 QB Tim Rattay (37/52, 426 yards, 5 TDs, 1 INT)
Round 1, Game 5: 2001 vs 2015
Final Score: 2001 wins, 38-35
Notables: These games are all close! That's somewhat surprising. Here's what you need to know about this one: Joe Smith. That's it. That's the tweet. The '01 RB put up 126 yards from scrimmage and FOUR touchdowns. Luke McCown outpaced Jeff Driskel 349 to 278 through the air, and the '15 Bulldogs just weren't able to get it done in the first totally turnover-free matchup we've seen so far.
Player of the Game: 2001 RB Joe Smith (20 carries, 98 yards, 2 TDs, 3 rec., 28 yards, 2 TDs)
Round 1, Game 6: 2004 vs 2014
Final Score: 2014 wins, 34-18
Notables: Wow! A game that wasn't close for a change. Ryan Moats's 118 yards weren't enough for the 2004 squad, as Kenneth Dixon racked up 141 yards of total offense and scored thrice from the ground. Trent Taylor added 84 yards receiving, and Cody Sokol's 2 INTs definitely didn't cost the '14 squad this one.
Player of the Game: 2014 RB Kenneth Dixon (26 rushes, 96 yards, 3 TDs, 4 rec, 45 yards)
Round 1, Game 7: 2005 vs 2012
Final Score: 2005 wins, 38-30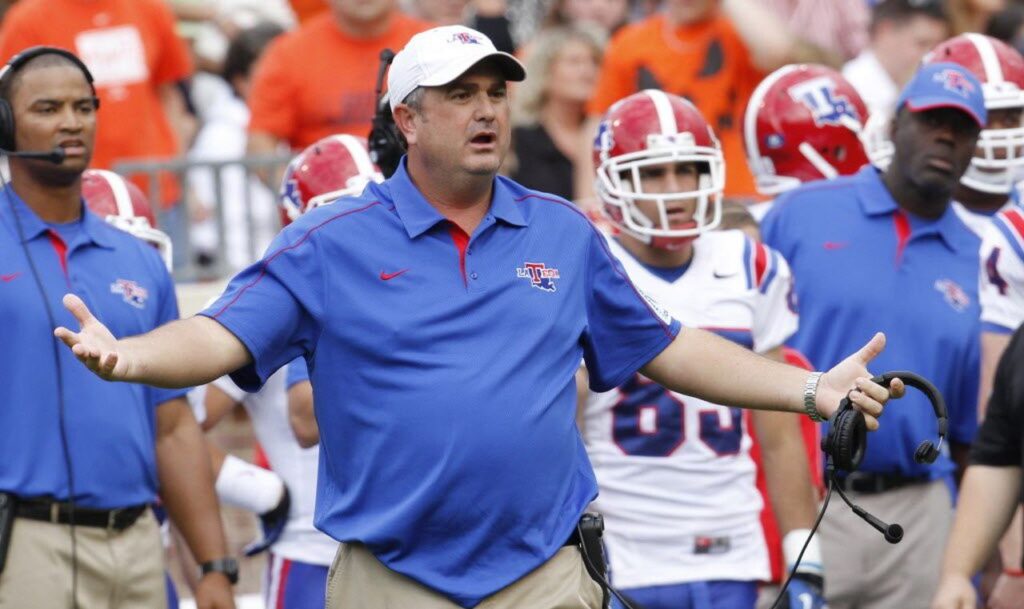 Notables: WHAT?!?!??! Remember how at the top of this article, I reminded you that anything can happen on any given Saturday, even in hypothetical land? Yeah… it's because of this. Sometimes simulations are just… wrong. 2005 QB Matt Kubik threw for more yards than Colby Cameron (277 to 192). For Terry Bradshaw's sake, Colby Cameron worst game in Actual 2012 was a 227 yard performance against Virginia! Anyway, 2005 RB Freddie Franklin took over the game, scoring three touchdowns, including the backbreaker at the end of the third quarter that made the score 38-23. Ultimately, 2012's lack of offense (whodathunk) ended up being their Achilles' Heel.
Player of the Game: 2005 RB Freddie Franklin (14 carries, 87 yards, 3 TDs, 3 rec, 37 yards)
Round 1, Game 8: 2008 vs 2011
Final Score: 2011 wins, 24-17
Notables: This one was our only matchup that could have hypothetically featured players facing off against versions of themselves… but that doesn't seem to have happened here. Jamel Johnson's two picks for the 2011 squad made the difference here. He returned one of them 65 yards for a touchdown in the first quarter and never looked back. 2008 added a late score when Anthony Harrison caught a 5 yard pass, but the onside kick attempt was unsuccessful, and '11 held on to win.
Player of the Game: 2011 QB Colby Cameron (12/22, 191 yards, 2 TDs [man this thing really doesn't like CC!!])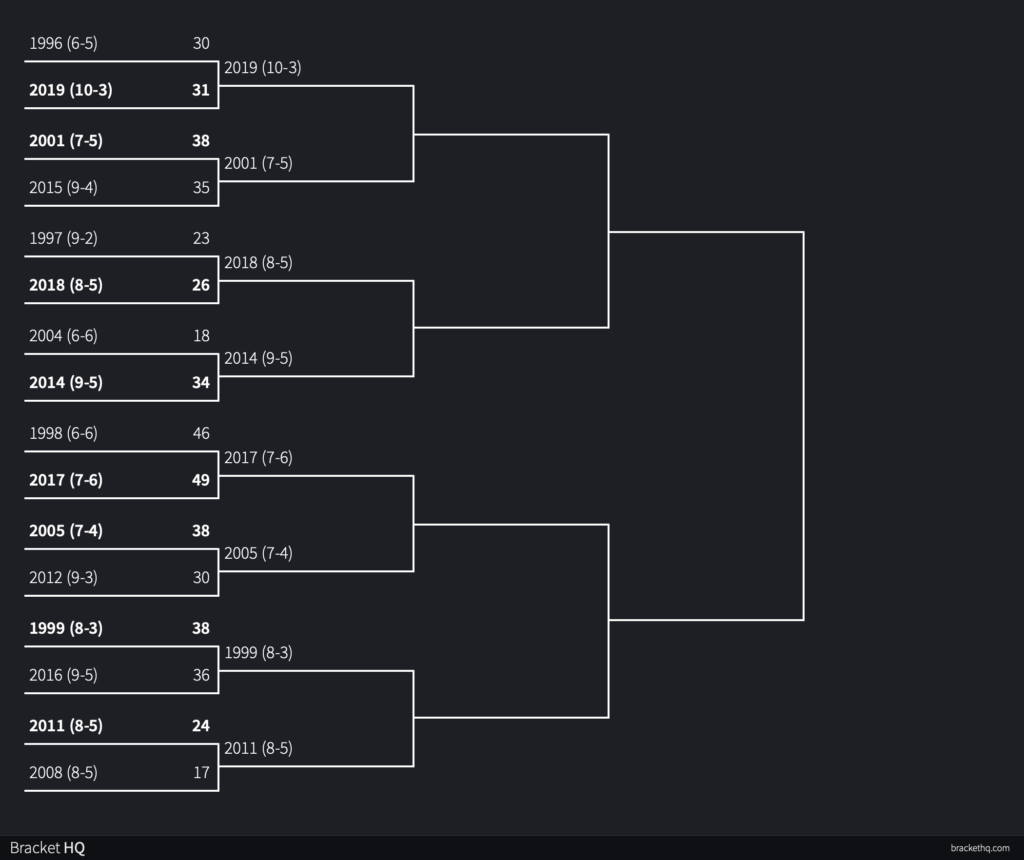 Round 2, Game 1: 2019 vs 2001
Final Score: 2001 wins, 29-22
Notables: 2019 J'Mar may have bested '96 QB Jason Martin in Round 1, but he couldn't get it going against 2001 with only 213 passing yards and 2 INTs. Josh Scobee kicked FIVE field goals for '01. But the real story of this game is how it ended: '01 led 16-14 going into the 4th quarter, then Scobee added two FGs to bring the lead to 8 with just under 7 minutes to play. J'Mar led the Recency Bias Dogs down the field and Israel Tucker scored to make it 22-20. J'Mar then scrambled and scored on the two point conversion, tying the game at 22 with 3:37 to play. On the very next play, McCown found Ahmad Harris for a 75 yard touchdown pass that would be the difference.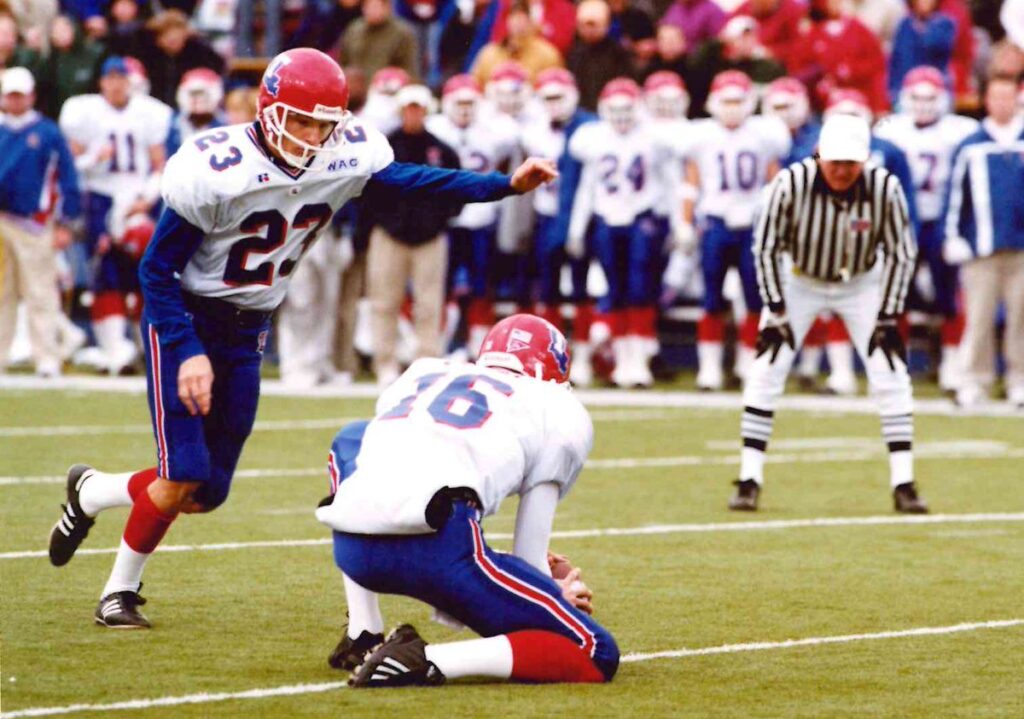 Player of the Game: WhatIfSports gave it to McCown (23/42, 366 yards, 1 TD), but screw that. I'm giving it to Scobee, who hit from 31, 37 (x2), 24, and 45. What a baller.
Round 2, Game 2: 2018 vs 2014
Final Score: 2018 wins, 31-16
Notables: 2018 is not a team I expected much from at the outset of this tournament. They jumped out to a quick 21-0 lead (Two Dancy rushing TDs and a Hardy receiving TD), and really never looked back for the rest of the game. 2014 came back and made it a game early in the fourth when Kenneth Dixon scored on a 17 yard pass from Sokol, but the two pointer failed. 2018 then iced the game with a Teddy Veal TD followed by a Bailey Hale field goal. 2018 ultimately overcome a 3 turnover game, and Paul Turner's 111 yard, 1 TD performance thanks in large part to Jaqwis Dancy.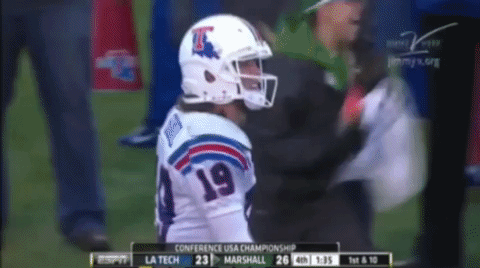 Player of the Game: 2018 RB Jaqwis Dancy (14 carries, 89 yards, 2 TDs).
Round 2, Game 3: 2017 vs 2005
Final Score: 2017 wins, 44-17
Notables: Honestly… this is what I expected from 2005's first game (against 2012). While I'm still not over the DISRESPECT WhatIfSports gave Colby Cameron and the gang, this score… somehow doesn't feel right. 2017 Tech and 2005 Tech just weren't all that great. 2005 was able to keep it respectable in the first half, trailing by 10 at the break. After the half, 2017 scored 24 unanswered points (largely thanks to J'Mar's best performance of the tournament so far) to put this one far out of reach. Boston Scott had a nice outing with 136 yards from scrimmage, as well.
Player of the Game: 2017 QB J'Mar Smith (18/26, 355 yards, 3 TDs, 16 yards rushing, 1 TD)
Round 2, Game 4: 1999 vs 2011
Final Score: 2011 wins, 29-17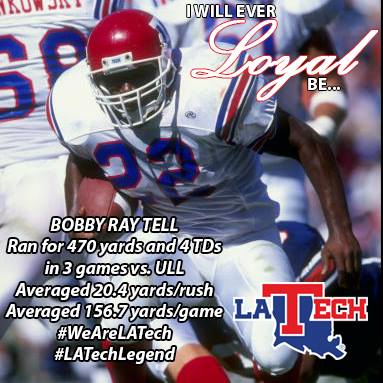 Notables: In what's probably one of the better matchups of the tournament… there was a surprising lack of drama and excitement. Sure, 1999 tied it up at 17 at the end of the third quarter, but Myles White and Lennon Creer scored for '11 and that was all she wrote. Tim Rattay's bid for supremacy ended with a sub 50% completion game, which… yikes. The real story here is that the 2011 Bulldogs completely obliterated '99's rushing attack, holding the pre-Y2Kers to 0.9 yards per carry! Bobby Ray Tell'Em did not supersoak them OHHHHH that night.
i'm so sorry
Player of the Game: 2011 RB Lennon Creer (24 carries, 106 yards, 1 TD, 3 rec., 67 yards, 1 TD)
FINAL FOUR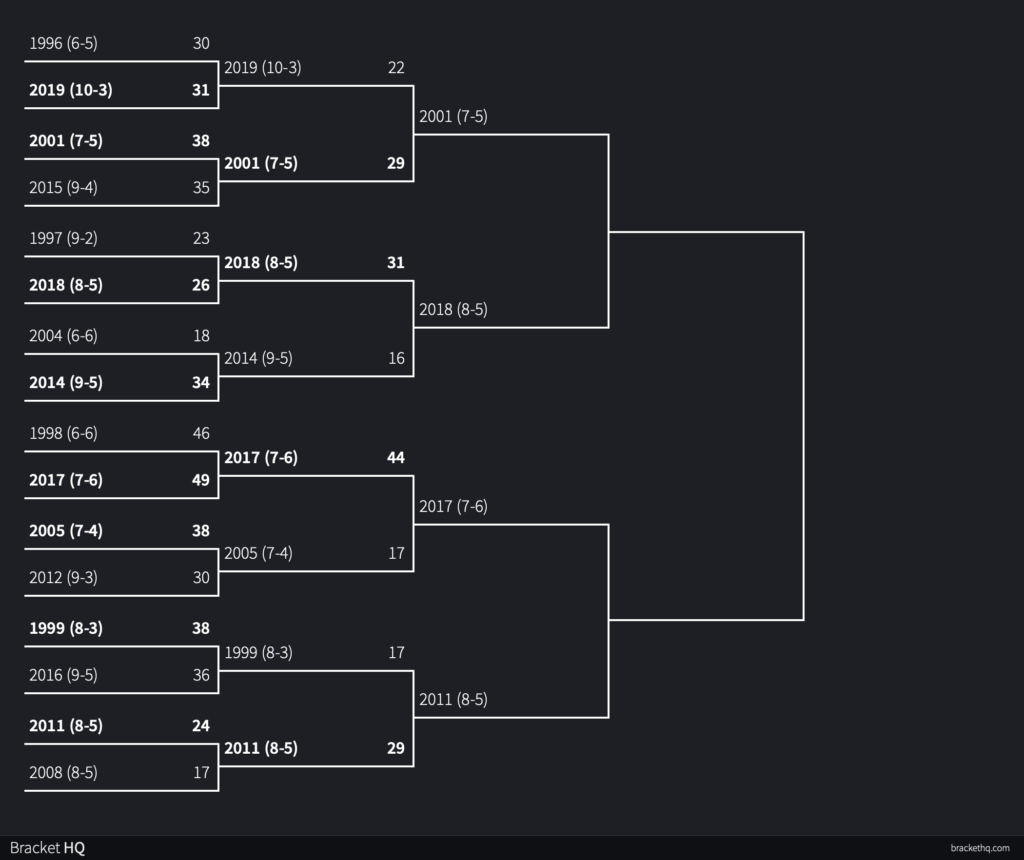 So there you have it, your final four matchups are 2018 vs 2001 and 2011 vs. 2017. Not exactly what we all would've predicted, but here we are. That's the nature of football, the best team doesn't always win the simulated time-travel game.
Wait, hold on a damn second. I just realized that 2017 scored 49 and 44 points, respectively. That team scored more than that on two occasions: against Northwestern State to open the season, and against SMU to close it. But sure, 2017 J'Mar would put up 46.5 points in QB duels with Timmy Rats and Luke McCown. Okay, simulator!
So what do y'all think? Who got the digital shaft? Who made the Band of Pride yell "nuts and bolts" while the other, time warped Band of Pride cheered loudly?
But most importantly, who ya got in the Final Four? Let us know on Twitter, where we'll have a poll up allowing you to predict the winner. Tell us who you think will win and why, and you're entered to win some gtpdd stickers and maybe some random Tech football cards from the 80s, who knows!
We'll be running the simulations on next week's gtpdd Podcast to see who the best hypothetical Tech football team is since 1996! Make sure to tune in next Tuesday, July 7th!